Warning issued to ticketless fans
September 22, 2013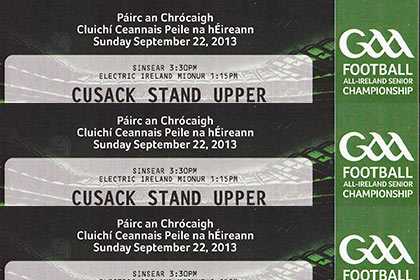 The most sought after tickets for a long time
Fans without tickets for the All-Ireland final are reminded to beware of ticket fraudsters.
Ahead of today's Dublin-Mayo showdown at Croke Park, supporters are asked not to risk handing over money unless they know the tickets they are buying are legitimate. Many fans are now asking that deals take place in garda stations to make sure they are buying genuine tickets.
A GAA spokesman told the Irish Daily Mirror: "We've had reports of people buying tickets for 10 times the face value and arriving at the gates to be told it's a dud.
"We had it last year and I'm sure there'll be cases of the same sort this year.
"What we are telling fans to do is to only come up to the gates if they have a valid ticket. This will save them from getting ripped off. It's obviously a sell-out, so we are warning fans to be vigilant."
Most Read Stories