Reaction: McStay ecstatic after Brigid's win
March 17, 2013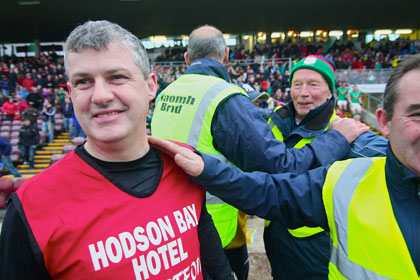 Former St Brigid's manager Kevin McStay.
Frankie Dolan's injury time winner earned a first ever AIB All-Ireland Club SFC title for St. Brigid's, Kiltoom this afternoon, and afterwards manager Kevin McStay was ecstatic with the victory.
"It's pretty good I have to say, it's a good feeling alright," he said after the game.
It could have been oh so different for the Roscommon and Connacht champions, after they trailed by 2-3 to 0-1 after nine minutes.
"The two early goals are the curse of Mayomen in All-Ireland finals, early goals really hurt us, but they were two really good goals.
"Dean Rock got a great touch for the first one. I was upstairs and I saw it on the slow-motion and he got a great touch. They took their second goal really well too. It was no fault of ours really, but the problem was could we fight back?
"We had to make a game of it before half-time or we were goosed. In fairness we got it back to four points by half-time, and we were happy enough with the way most of the lads were playing.
"The pace was hurting some of the lads a bit, but we made a few bold changes. Liam (McHale) and Benny (O'Brien) threw one or two 'scuds' into the pile and we went for it.
"At half-time there was no fear that we weren't going to play in the second half, because there is massive heart in this team.
"Coming towards the end of the game, we made enough mistakes to win two games. We would have been very comfortable if we took our nice handy tap-overs. We made it hard on ourselves, but then Frankie takes it.
"I don't want to blow smoke around him or up his bum, but if I wanted anyone to have the ball with those 20 or 30 seconds left (it would have been him.)
"I just looked at the clock and I knew that it was 48 seconds (out of the minute of injury-time gone) and I just said 'please blow it' and that's the story of the All-Ireland."
Most Read Stories