Louth SHC final: Knockbridge shatter Pearse Og treble dream
September 14, 2014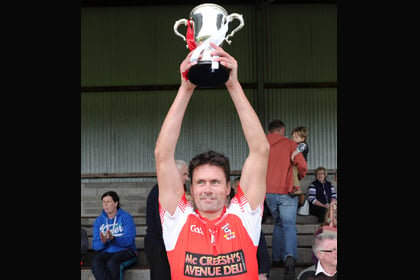 Knockbridge Captain David Dunne raises the Louth Senior Hurling Championship Cup
KNOCKBRIDGE 1-15
PEARSE OG 1-8
Knockbridge claimed the Louth Senior Hurling Championship title for the first time since 2011 when they ended Pearse Og's hopes of winning their third successive title at Stabannon on Sunday afternoon.
There was little between the teams going into the game but on the day it was the Knockbridge men who proved too strong, turning in a solid team display that saw them hold the upper hand in almost all areas of the pitch.
In an encounter that never really sparked into life, Knockbridge always seemed to be in charge as they kept the scoreboard ticking throughout. A rather fortunate first half goal helped keep Pearse Og in contention until the end of the third quarter when Conor Deane hit the net for the village side.
That score left his side with a 1-13 to 1-5 advantage and at that stage there was no way back for the Dundalk outfit and only a matter of time before long-serving Knockbridge star, David Dunne, got his hands on the Paddy Kelly Cup.
The first score of the match arrived in the opening minute and set the tone for much of what was to follow with Sean Byrne pointing the first of his eight frees.
Gary O'Brien levelled soon after before Shane Fennell restored the Knockbridge lead and then saw a shot for goal saved by Barry Myles. Brian McCabe landed a free to level matters once more before Mark Wallace had Knockbridge 0-3 to 0-2 ahead.
The village side missed a number of opportunities but looked to be taking control when they went two ahead thanks to a Ronan Byrne free on 15 minutes.
However, they suffered a setback when a long centre by Matthew Myles wasn't dealt with and the sliotar deflected off Tony Teefy's hurl and into the net to put Pearse Og ahead for the first time,
The town side were unable to build on that piece of good fortune and it was Knockbridge who showed the composure to get themselves back in the lead at 0-7 with 1-2 with points from James Costelloe and Byrne (2).
Gerard Smith and O'Brien scored in quick succession to level the game but in injury time Byrne pointed another free to make it 0-8 to 1-4 at the break.
Byrne added three more from frees in the opening eight minutes of the second half and his side could have been further ahead but they wasted a number of opportunities before Brian Minogue pulled one back for Pearse Og.
Gavin Kane and Byrne raised white flags for Knockbridge before a good move from the back resulted in Peter Brennan's shot being parried only for Deane to flick the ball home and make it 1-13 to 1-5 on 43 minutes.
The outcome was beyond doubt at that stage as Knockbridge continued to work hard to prevent their opponents getting a sight at goal to ensure a comfortable victory despite the fact that the Dundalk men scored three of the last four scores.
KNOCKBRIDGE: Paul Dunne; Ricky McKeown, Tony Teefy, Conor Kerrigan; Mark Wallace 0-1, Ronan Byrne 0-1, Conor Deane 1-0; Shane Kerrigan, Gavin Kane 0-1; David Dunne 0-1, Peter Brennan, David Kettle; Shane Fennell 0-1, James Costelloe 0-2, Sean Byrne 0-8. Subs: Stephen Kettle for R McKeown, Andrew Smith for S Byrne, Gavin Kerrigan for P Brennan, Michael Lundon for J Costelloe.
PEARSE OG: Barry Myles; Matthew Myles 1-0, Noel Callan, Richard Scanlon; Andrew McCrave, Shane Callan, Aidan Callan; Donnach Callan, Mike Lyons; Gary O'Brien 0-2, Brian Minogue 0-1, Brian McCabe 0-1; Brian Hassett, Gavin Hartnett, Gerard Smith 0-4.Subs: David Mulholland for A Callan, Kenneth O'Hagan for D Callan.
Most Read Stories