JFC final: Hunterstown claim the honours
September 16, 2013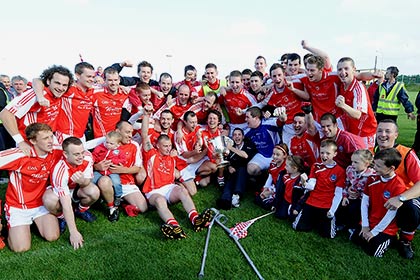 Hunterstown Rovers celebrate with the Christy Bellew Cup
HUNTERSTOWN ROVERS 3-16
NAOMH FIONNBARRA 1-5
Hunterstown Rovers are celebrating Junior Championship success after brushing aside the challenge of Naomh Fionnbarra in the final at Dunleer on Sunday afternoon.
Carrying the tag of favourites can often be a burden for teams going into finals, but that certainly wasn't the case for Rovers as the turned in a fine team display to deservedly claim the Christy Bellew Cup.
It may not have been a great spectacle for the neutral observer but few in Hunterstown will be concerned about that as they secured their place in the Intermediate ranks for next season.
It was a bitterly disappointing day for Nh Fionnbarra who came into the game with hopes of upsetting the odds but left Dunleer feeling that luck had completely deserted them.
Having battled well in the opening quarter, the Finbarrs saw their hopes of victory suffer a devastating blow when top scorer, William Woods was forced off with an injury sustained when kicking an equalising point on 21 minutes.
The loss of the key player seemed to knock the stuffing out of his side who failed to register another score until second half injury time.
On the other hand, Hunterstown were forced to bring on Brendan Lennon in the opening half for the injured Ciaran Carrie and that switch had an equally important bearing on the outcome.
Lennon set up one goal and kicked a personal tally of 1-3 on his way to claiming the Man of the Match award. Not far behind was Ryan Burns who also turned in brilliant attacking display as he finished with 2-6.
The game began with the Finbarrs playing with the wind advantage and they were 0-2 to 0-1 ahead when Burns got through for his first goal on 12 minutes. However, the Barrs fought back and on 21 minutes were very much in contention when Woods pointed to make it 0-5 to 1-2.
However, it was to be Woods's final involvement in the game and Hunterstown took full advantage as Lennon hit the net on 27 minutes to put his side into a commanding 2-6 to 0-5 lead at the break.
With the wind in their backs, Hunterstown were in a very strong position and they made it count by adding 1-4 in the opening ten minutes as Burns added a second goal to make it 3-10 to 0-5.
The result was never in doubt after and Hunterstown showed the quality of champions by sending over some impressive points.
In the end the final whistle couldn't come quick enough for the Finbarrs but the did manage to get on the scoresheet one more time as Darren McConnon found the net from a penalty in injury time.
HUNTERSTOWN ROVERS: Alan Fedigan; Brian Matthews, Ciaran Carrie, Patrick Matthews; Martin Lennon, Keith Brennan, David Finn; Tony McKenna 0-1, Conor Matthews; Maurice O'Sullivan 0-2, Paul Carrie, Robbie McNeice; Alan Landy 0-3, Ryan Burns 2-6, Padraig Matthews. Subs: Brendan Lennon 1-3 for C Carrie, David Fedigan 0-1 for Padraig Matthews, Robert Clarke for P Carrie, Danny McKenna for M Lennon, Niall Taaffe for M O'Sullivan.
NH FIONNBARRA: Allan Matthews; Conor Lenehan, Kieran Lenehan, Bryan Sharkey; Kieran Murphy, Hugh McGrane, Padraig Butterly; John Doyle, Gary Matthews; Conor Osborne, Darren McConnon 1-0, Stuart Osborne; Jack Butterly 0-1, Andy McCann 0-1, William Woods 0-3. Subs: Martin O'Neill for W Woods, Martin Murphy for C Lenehan.
Most Read Stories