All change for Limerick
June 10, 2011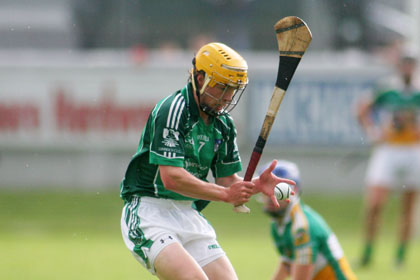 Limerick's Paul Browne
Limerick have made a whopping 13 changes from the side that lost to Cork a year ago for Sunday's Munster SHC semi-final against Waterford at Semple Stadium.
Graham Mulcahy and Paul Browne are the only survivors from that defeat, with many of the players who had refused to play under former manager Justin McCarthy having since returned under Donal O'Grady.
O'Grady has named six of the team that lost the 2009 All-Ireland semi-final to Tipperary, including Brian Geary at centre back. Dual star Stephen Lucey wasn't considered due to injury.
Three players will make their championship bows - centre forward Richie McCarthy, corner forward Sean Tobin and full forward Kevin Downes. Declan Hannon, who scored 1-1 in the NHL Division 2 final against Clare, wasn't considered as he's currently sitting his Leaving Cert.
Limerick (SH v Waterford): N Quaid; D Reale, S Hickey, T Condon; W McNamara, B Geary, G O'Mahony; D O'Grady, P Browne; J Ryan, R McCarthy, N Moran; S Tobin, K Downes, G Mulcahy.
Most Read Stories