No luck for Kildare U14 girls
June 24, 2013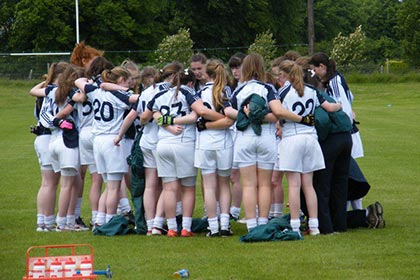 Cork were too strong for Kildare in the All Ireland U14 decider.
U14 All Ireland Final
Kildare 1 - 6
Cork 3 - 15
By Liam O Brien
The game started off at breakneck speed and it was Cork who struck first with a point. Soon after they were in on goal again but Kildare keeper Doran denied them a goal with a brilliant save but the ball went straight to a Cork forward and she struck it over the bar. Kildare now started to get into the game and began to create chances. Their first real shot at goal was a free by Humphries that rebounded off the upright but soon after Roisin Forde opened Kildare's account with a point. The young Lillies got the next score to level matters as a move involving McLoughlin and O'Toole found Humphries and she slotted the ball over the bar. Cork's half backs and midfield now began to squeeze Kildare backwards and they soon regained the lead with points from Culloty and Cottrell. Kildare's defence was now being sorely tested as Cork attacked at pace but the workrate of Doyle, O'Brien, Horan, Coffey and McLoughlin along with the commanding presence of Melia at fullback were stopping Cork from scoring the goal that they were desperately seeking. Despite their efforts Cork extended their lead by another two points as the impressive Noonan put over a couple. Now Kildare made their first changes as Stapleton and Hannon entered the fray to try and stem the red tide. The rebels soon added another two points to give them a six point lead. Things were now looking desperate for the Lillies but full forward Roisin Forde struck with a well taken goal to breathe new life into Kildare. Cork tagged on another point to their tally when O'Leary scored just before the break to leave the half time score at Kildare 1-2 Cork 0-9.
Cork were first out of the blocks in the second period with another point but the Lillies wouldn't give up as they responded with two of their own. First Kate Coffey won possession and set O'Brien off on a run, she fed the ball to Stapleton who was fouled and team captain Nash put the free over the bar The Lillies next score was another free as O'Toole put the ball over the bar after being brought down by the Cork rearguard. Cork next tested the Kildare goalie but Doran once again pulled off a great save to deny them a goal. However they couldn't be kept out forever and as the rebels once again upped the tempo they finally broke down the Kildare rearguard with a goal from Sadbh O'Leary. Kildare responded with another pointed free but now Cork really began to turn the screw with three unanswered points. Both sides now emptied their benches as Kildare brought on McCourt, Murphy and Neasa Dooley to try and save the game. But as Kildare pushed forward the fresh legs of the Cork subs caught them on the break as they scored 2-1 in the final five minutes. Kate Hannon had time to put over the final score of the day with a point for Kildare.
In the end the experience and strength in depth of Cork was just too much for a gallant Kildare team competing in their first All Ireland final at the highest level. Their ability to punish the Kildare team with scores when they were on top allied with a hard working midfield and defence ensured that the U14 title returned to Leeside for the third year in a row. However this superb young Kildare team have much to be proud of and it surely won't be the last time that this side will be fighting for All Ireland honours on final day.
TEAM : Niamh Doran, Beth Doyle, Claire Melia, Melissa O'Brien, Dervla McGinn, Amy Horan, Alannah McLoughlin, Ellie O'Toole (0-1), Katie Merrick, Kayleigh Humphries (0-1), Aine Nash (0-2), Nicole Dooley, Kate Coffey, Roisin Forde (1-1), Ceire Boland. SUBS : Aoife Stapleton for Boland, Ellen McCourt for Coffey, Nanci Murphy for Nicole Dooley, Neasa Dooley for Beth Doyle, Kate Hannon (0-1) for McGinn, Sarah Jennings, Aisling Roche, Roisin McConnon, Georgina Kelly, Aoife Walsh, Julia Marron, Carrie Pedley.
Most Read Stories