Reaction: Cody delighted by second-half display
September 06, 2015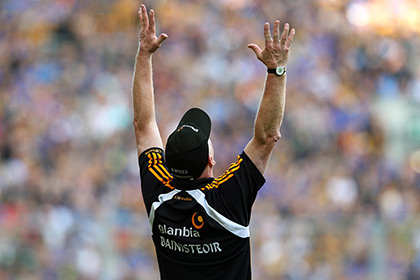 Kilkenny manager Brian Cody celebrates at the final whistle. INPHO
Kilkenny manager Brian Cody applauded his players for their second-half performance in today's All-Ireland SHC final victory over Galway.
Trailing by three points at half-time, the Cats outscored their Connacht counterparts by 0-14 to 1-4 to storm to a 36th Liam McCarthy Cup triumph and afterwards Cody lauded the attitude of his players.
"In the first-half, Galway were outstanding," said Cody told RTE Sport. "They really hit us, they really knocked us back in different ways and we struggled to get into our rhythm. We went in at half-time three points down and that's not a bad position to be in and I thought the second-half response from our players was magnificent.
"I thought the relentless spirit, attitude and hurling that they showed was top class and it was a hard fought victory, there's no doubt about that. "
In charge of the Leinster kingpins since 1998, Cody couldn't rank this success above or below the 10 other victories he's experienced in the past.
"Every year you win the All-Ireland final it's a brilliant feeling and I don't rank them, to be honest. It's just about winning today's match and winning the All-Ireland final is everything," said the James Stephens man.
He continued: "It's a coming together of an awful lot of things. Everybody plays such a huge part but at the end of the day the game is won on the pitch. I have yet to see a match that was won on the line, every match is won between both sidelines and players do that and it's about players and their response and their ability to respond."
Most Read Stories