Skehill raging with himself
October 02, 2012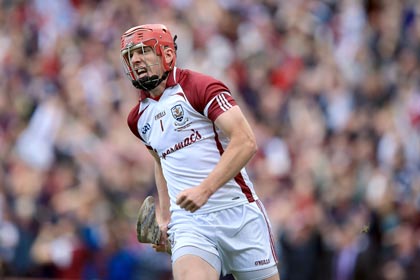 Galway keeper James Skehill. INPHO
James Skehill is annoyed with himself for starting Sunday's All-Ireland SHC final replay.
The Galway goalkeeper tried to play through the pain barrier despite dislocating his left shoulder less than 48 hours earlier. The decision backfired as he struggled for 35 minutes and then had to be substituted at half time:
"To be honest, I'm kicking myself," he is quoted in today's Irish Daily Mirror. "I'm kicking myself an awful lot in the sense that you'd even be questioning your faith as to why these things happen.
"But it's the life of a sportsman, isn't it?
"I got about five or six injections, took Panadol, took Difene. But they didn't work. Nothing kicked in. It was just too sore ... just too sore.
"People often talk about this pain barrier. I found it awful hard to break it in the sense that no matter how much I concentrated on the game, on a ball or on the score, every move I made was like someone stabbing you with a knife.
"Every puck-out was like getting stabbed. I'm not making excuses but that's just the way it was."
Most Read Stories