Mooney feels players are 'being used'
November 09, 2012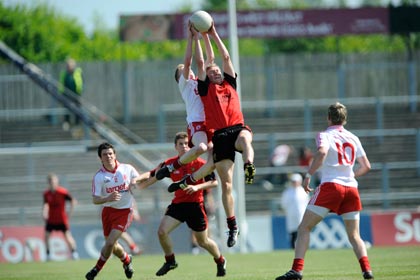 Down's Caolan Mooney and Stefan Tierney, Tyrone contest the high ball during the 2010 Ulster MFC
Former Down star Caolan Mooney says that he grew sick of Gaelic football before moving to Australia to join AFL side Collingwood.
The Rostrevor native caught the attention of some of the AFL's top clubs on the back of his progress with Down and made his debut with Collingwood, with whom fellow county man Martin Clarke also plays, this year.
The 19-year-old says that he doesn't miss his native game and feels that those playing in front of sell-our crowds at Croke Park are being taken advantage of by the GAA.
"It's at the point where you train professionally but you don't get any money for it," Mooney told the Irish Examiner.
"They bring in all these trainers who train the boys professionally and get paid but the players get nothing. They're just being used. It's far too much for an amateur sport. They're making a clean fortune out of the All-Ireland final, packing over 82,000 into Croke Park. Even Championship games, they make a fortune. They're making heaps of money but where does it go? Senior players come home from work and they then have to go training. They might get some fuel money at the end of the month but that's the height of it."
Mooney believes that players should be paid for services at inter-county level and that the association are at risk of losing more of them if they don't.
"When I was playing school football, I would come straight from school to train with the club or county," he added.
"I did that for two years and didn't get a break so I was like, 'I'm sick of this'. I got to the stage where I didn't even want to play Gaelic football anymore."
Most Read Stories