McBrearty consigns 'Bitegate' to history
May 27, 2013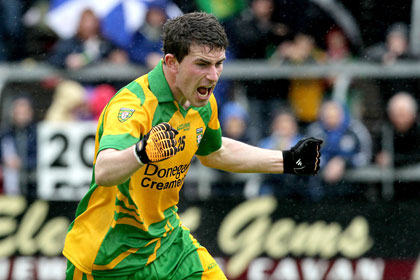 Donegal's Paddy McBrearty. INPHO
Paddy McBrearty is moving on from the 'Bitegate' controversy which has followed him since the end of the Allianz Football League.
The Donegal attacker put the whole episode behind with a man of the match performance in yesterday's Ulster SFC quarter-final win over Tyrone and admitted to the Irish Examiner afterwards: "It was obviously difficult.
"It was a bit head-melting, but I had U21 championship and club football to focus on and thankfully I had that to block out all the media hype before that."
The 20-year-old still sees himself as Donegal's third main scoring forward behind Colm McFadden and team captain Michael Murphy.
"I'm probably the third option in there beside the two boys. Definitely, there's better stuff to come. I take every game as it comes," he added.
"Inside - that's where I've played for my club all the way from underage and when I joined the (Donegal) senior team, I'm more comfortable closer to goal. Hopefully, I'll stay in there in the future."
Most Read Stories