Donegal welcome back Lacey
April 30, 2013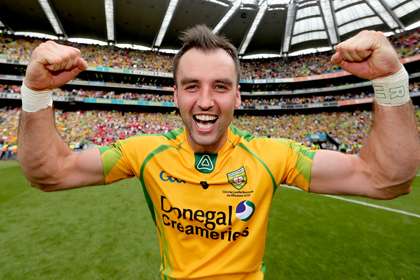 A delighted Karl Lacey.
Tonight will mark Karl Lacey's first training session with Donegal this year.
The reigning Footballer of the Year has been out of competitive action for six months but is returning just in time for the defending Ulster and All-Ireland champions' SFC opener against Tyrone in Ballybofey on May 26th.
Centre back Lacey, who underwent hip surgery before Christmas, would have been back in county training last week but for a family wedding in Malta but assistant manager Rory Gallagher has confirmed to The Donegal News that his return to the Tir Chonail camp is nigh and that he expects him to be available to face the Red Hands:
"We expect Karl to be fit to play against Tyrone. This will be the first time we'll integrate Karl back into a full session of ball work.
"He'll have three weeks of full, hard training. He has been doing running and trying to build up his core fitness.
"We feel that Karl Lacey is the best player in Ireland, so you do forego a certain amount when you factor that in.
"It is a bit of a concern that he hasn't played any club football yet, but we expect him to be back in good nick. We will encourage him to play for Four Masters."
Most Read Stories