McMahon expects resolution to McBrearty affair
April 11, 2013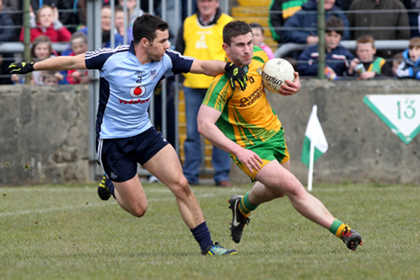 Donegal's Patrick McBrearty in action against Kevin O'Brien of Dublin at Ballybofey. INPHO
Philly McMahon is confident that Donegal and Dublin will make peace after last Sunday's Allianz Football League encounter in Ballybofey was overshadowed by allegations that Paddy McBrearty was bitten.
The Central Competition Controls Committee has launched an investigation into the matter after McBrearty - who played in last night's Ulster U21 final - was put on a course of antibiotics to treat the wound.
"I'm sure there is enough authority in both counties if something happened to sort it out," Dublin defender McMahon said on FM104.
"But I honestly don't know what happened. I have heard allegations but, as I said, I don't know what's going on."
Most Read Stories