Claims McBrearty suffered bite wound
April 09, 2013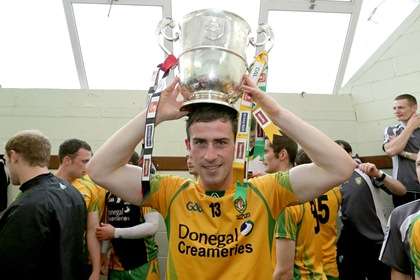 If the cap fits: Donegal's Patrick McBrearty celebrates with the Anglo Celt Cup as Donegal look to be the team to beat in the All-Ireland race ©INPHO/Morgan Treacy
It has been alleged that Paddy McBrearty was bitten during Sunday's clash with Dublin.
During the course of the Division One meeting at Ballybofey, Donegal's All-Ireland-winning attacking ace McBrearty is believed to have suffered a graze to his shoulder which is consistent with teeth marks.
The player had the wound checked at Letterkenny General Hospital on Sunday night and referee Padraig Hughes was informed of the alleged incident at half time.
Dublin were also made aware of the wound through contact between the two medical teams and it is understood that a member of the Dublin medical staff assessed the injury.
Donegal are not going to push the issue but have taken photographs of the alleged bite mark in case the referee's report prompts the CCCC to investigate the incident.
McBrearty's involvement in Wednesday's Ulster U21 FC final against Cavan is not in doubt.
Most Read Stories