McGuinness' perfect attendance record
March 28, 2013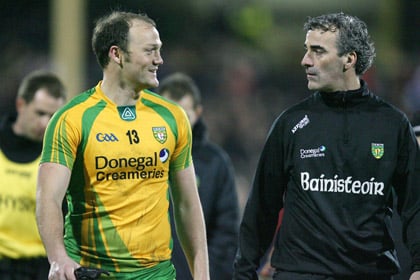 Colm McFadden of Donegal with Donegal manager Jim McGuinness after the NFL win over Down.
Fears that Jim McGuinness' new role with Celtic FC would impinge on his attendance at Donegal training sessions have proven wide of the mark.
The All-Ireland winning manager joined the Glasgow giants as a performance coach before Christmas, but despite his hectic schedule, hasn't missed a single Donegal training session so far this year.
"Jim hasn't missed a training session since we started back training. He must have it really well worked out with his schedule," Mark McHugh revealed at the launch of the 'Race the Ras' charity cycle in Croke Park yesterday.
"Training might be a little bit later, maybe 7.30, to make sure he is back in time from the trip down from Belfast or wherever he comes in from. He's fully committed to both jobs and hasn't missed a training session, not even a recovery session, since he has gone over."
Most Read Stories