FL1: Kildare tops in absorbing contest
February 02, 2013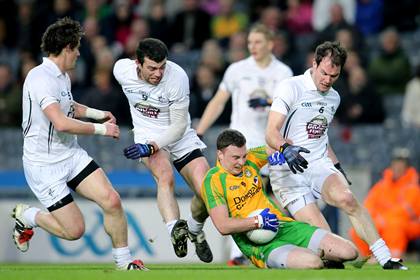 Donegal's Martin McElhinney comes under pressure from Emmet Bolton, Padraig O'Neill and Michael Foley of Kildare ©INPHO/Cathal Noonan
The Allianz NFL Spring Series burst into life this evening as Kildare recorded a 2-14 to 1-13 win over Donegal at Croke Park.
If this is anything to go by, we are in for a pulsating Division 1 campaign as both sides gave it their all, but the game was ultimately decided by a mistake by Donegal goalkeeper Paul Durcan, who misjudged a long ball by Johnny Doyle and the ball ended up in the back of the net.
Both sides made two changes to their initial line ups as Marty Boyle came in for Paddy McGrath and Ross Wherity replaced Mark McHugh for Donegal and Niall Kelly and Dan Flynn came in for McNally and Eoghan O'Flaherty in the Kildare line up.
Seánie Johnston started his first major competitive game for Kildare. The former Cavan footballer joined Tomas O'Connor and John Doyle in the full forward line.
The match was played in perfect conditions as referee Cormac Reilly got the game started.
Donegal made the brighter start to the game and raced into 0-3 to 0-0 lead. It looked as if the All-Ireland champions were picking up where they left off last year, but Kildare soon found their rhythm and once they got off the mark in the 11th minute, they dominated the remainder of the half.
However, they battled back in the second half and were well on top during the third quarter, but Kildare kicked on after their second goal to claim a precious two points.
The sparse crowd had to wait until the fifth minute when Michael Murphy slotted over a free after Ross Wherity was fouled and it was a further four minutes later when the second score of the match came and once again it was from a Murphy free. The Donegal captain was in outstanding form and he picked out Paddy McBrearty, who kicked a fine point off his left foot, despite being off balance.
Kildare finally got on the score sheet when Johnny Doyle fired over a well taken score to make it 0-3 to 0-1 after eleven minutes. A foul on Mick Foley gave Mikey Conway the opportunity to kick a free and he duly obliged to leave the minimum between the sides as Kildare started to get to grips with the game.
Kildare were soon in the lead and it came from a Conway free that came off the post and full forward Tomas O'Connor was quickest to react and he dived to punch the ball to the net as a static Donegal defence failed to react. This left the scoreline 1-2 to 0-3 after 18 minutes.
The Lilywhites were growing in confidence and a cross field ball by Conway found Brian Flanagan, who was fouled and Doyle kicked his second point of the match to open the gap to three points.
From the resultant kick out, which was a poor effort by goalkeeper Paul Durcan, it must be said, Doyle gathered but his shot drifted right and wide.
Nice neat build up play saw Kildare work the ball up the field and finished with Flanagan kicking a fine point.
Amazingly 17 minutes past before Donegal kicked their fourth point of the evening and it was their inspirational captain that fired over from 13 metres although Murphy will be disappointed that his shot didn't end up in the back of the net.
Doyle then kicked another free to make it 1-5 to 0-4 after 28 minutes and to be fair to Kildare, they were well on top. They made it a five point game when Niall Kelly, who had an impressive game kicked a massive point from 45 metres out from the Donegal goal. It was all Kildare as they continued to put pressure on their opponents defence. A good pass by Doyle to Padraig O'Neill saw the midfielder kick a huge point from way out the field and now the Leinster side led by six points as half time approached.
However the last score of the half belonged to Murphy, who kicked his third free of the half after he was fouled 40 metres out from the Kildare goal to leave the score at 1-7 to 0-5 in favour of Kildare.
If one man was going to drag Donegal back into this match, it was Murphy and he opened the scoring in the second half when he rose highest to punch the ball over the bar from 13 metres to reduce the gap to four points.
Nonetheless, Kildare's response was swift and the impressive Kelly hit another point from distance. This was followed by another Doyle point from play to make it a six-point game once again.
The sides got to know each other a bit too much for the referee's liking in the 41st minute and as a result four players were booked. The crowd were getting more lively now and from the resultant throw in, Kildare were awarded a free and Doyle stepped up, but his effort drifted wide from 30 metres.
The long serving Kildare forward made amends when he came in along the end line and shot for a goal, but Durcan palmed the shot over the bar to make it 1-10 to 0-6 after 46 minutes.
It was becoming a case of Doyle v. Murphy as the latter took on the Kildare defence before kicking over the bar with left to make it a six-point game once again.
Durcan then smothered a Flanagan shot before the one man show of Murphy kicked an excellent point to keep his side in the game. Murphy needed more help in the forward line if Donegal were to get anything from this match. And McBrearty kicked his second of the match when he converted a free straight in front of the goal to reduce the gap to four points with 20 minutes remaining.
The All-Ireland champions were stepping up a gear at this stage and a point by McHugh was followed by yet another Murphy free from close range to leave it 1-10 to 0-11 and the complexion of the game had dramatically changed in just a few minutes.
The pace and intensity of the match had at this stage went to a whole new level. Both sides were scrapping for every ball and the next score would be crucial. Paddy Brophy replaced Johnston, who to be fair, despite not scoring, worked very hard out the field.
In the 59th minute, it was a one-point game when Molloy slotted over from 35 metres and certainly Donegal were in the ascendency at this stage as they kicked six points in a row.
Like Donegal in the first half, Kildare went 17 minutes without a score, but a simple free by Conway gave them a little breathing space. Then the Lilywhites got a massive break when a speculative Doyle shot from under the Cusack stand was misjudged by Durcan and the ball slipped into the net to make it a 2-11 to 0-12 game with six minutes remaining.
Donegal responded immediately and Wherity got in along the edge of the square and fisted across the box where Molloy was rushing in to palm the ball into the net, 2-11 to 1-12 with four minutes left.
Once again, the outstanding Kelly made it a three-point game a minute later as the action went from end to end. Substitute Eoghan O'Flaherty started and finished a fine move to make it a four-point game with two minutes remaining.
Murphy hit his ninth point of the match in the last minute of normal time, but Brophy had the final say when he made it 2-14 to 1-13 at the final whistle.
Kildare: Shane Connolly; Ollie Lyons, Peter Kelly, Hugh McGrillen; Emmet Bolton, Michael Foley, Mikey Conway (0-2); Gary White, Padraig O'Neill (0-1); Brian Flanagan (0-1), Niall Kelly (0-3), Dan Flynn; Seánie Johnston, Tomas O'Connor (1-0), John Doyle (1-5). Subs: Paddy Brophy (0-1) for Johnston (55 mins), Eoin Doyle for Bolton (59 mins), Eoghan O'Flaherty (0-1) for White (62 mins).
Donegal: P Durcan; M Boyle, N McGee, E McGee; F McGlynn, D Walsh, A Thompson; R Kavanagh, M McElhinney; R Wherity, L McLoone, R Bradley; C McFadden, M Murphy (0-9), P McBrearty (0-2). Subs: Dermot Molloy (1-1) for McFadden (inj 9mins), Mark McHugh (0-1) for Boyle (30 mins), Daniel McLoughlin for McGlynn (h/t).
Most Read Stories