Glenswilly hit out at jersey ban rumours
February 01, 2013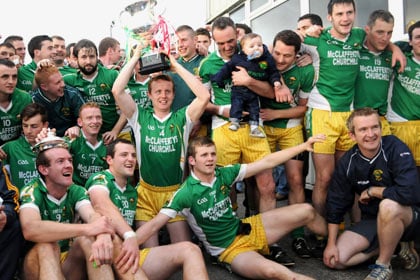 Glenswilly celebrate their 2011 Donegal SFC win. INPHO
Donegal club Glenswilly have been forced to defend themselves against allegations that they told their underage players not to wear soccer or other sports jerseys at training.
Rumours have circulated that the club passed a motion at their annual general meeting stating that underage players weren't allowed wear jerseys from other sports at training.
However, club chairman Michael Murphy strenuously denied the accusations and stressed to the Donegal Democrat that there was no ban in place.
"The motion passed, and, in fact, it was more a recommendation, was to encourage young players to wear GAA jerseys to club training. Nowhere did it state that other sportswear would not be tolerated at Glenswilly training.
"We are not going to turn away any youngster that turns up for training wearing anything other than a GAA jersey. That was not the purpose of the motion at all. It was just to encourage the youngsters to wear GAA gear and to be honest it is not a problem for Glenswilly."
Most Read Stories