McBrearty looking for time off
January 25, 2013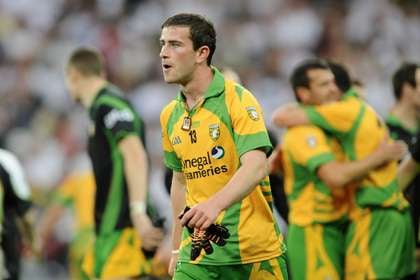 Donegal's Paddy McBrearty
Donegal GAA star Paddy McBrearty hopes to get time off from Jim McGuinness so he can travel to Wembley to support his friend Carl McHugh in the League Cup final against Swansea.
McHugh has been one of the stars of Bradford City's fairytale run to the League Cup final and McBrearty hopes McGuinness will look favourably on his request and allow him attend next month's final.
"I'll have to have a word with the main man (Jim McGuinness) to see if I can make the trip to the final," McBrearty told The Donegal Democrat.
"It is a major achievement for Carl and I'm delighted for him and his family. It is a massive achievement for him, considering what he has come through in the last couple of years.
"Myself, Brian (McGroary) and Carl have been good friends since underage and we still have great banter with each other. It was good to meet him again when we were over at the Arsenal game, and hopefully we will be able to make the trip to Wembley to cheer him on.
"If we can get four points from our two National League games against Kildare and Down, it would make the negotiations with Jim a little easier," quipped McBrearty who didn't get to see Tuesday night's semi-final second leg on TV because of county training.
1992 Donegal All-Ireland winner Declan Bonner coached McHugh in the Na Rossa GAA set-up.
An Aston Villa fan, Bonner told The Donegal Democrat: "He was always a really good footballer whether it was soccer or Gaelic.
"He was fearless and committed when he played for me and someone who wasn't afraid to work hard. It's great for him and I'm sure there will be a mass exodus from the Rosses for Wembley next month."
Most Read Stories