Cork U21 boss Cleary steps down
June 17, 2013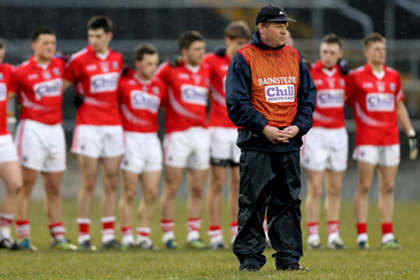 John Cleary in charge of the Cork U21s. INPHO
John Cleary has called time on his 10-year involvement with the Cork U21 footballers.
The 1989 and '90 All-Ireland winning forward spent six years as manager, having served as a selector under Tony Leahy for four years prior to that. During his tenure as manager, Cork won one All-Ireland and four Munster titles. They also lost this year's All-Ireland final to Galway, which turned out to be the Castlehaven man's last game in charge.
"I've been there 10 years," he said in the Irish Examiner.
"Four as a selector and six as manager, and I kind of decided that this would be the last season. Being a selector with Castlehaven, things have been hot and heavy so it's just time to take a break now."
Cleary's selectors Mick O'Loughlin, Donal McCarthy, Brian Herlihy and Michael Linehan could all be considered for the top job next season.
Most Read Stories