O hAilpin critical of Cusack and Gardiner axings
March 20, 2013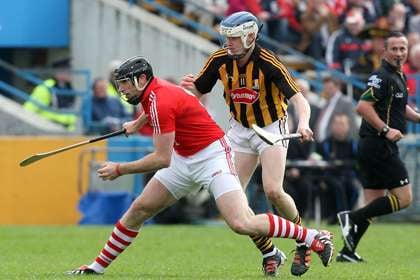 Cork's John Gardiner with Kilkenny's TJ Reid during the NHL League final ©INPHO
Sean Og O hAilpin has criticised Cork manager Jimmy Barry-Murphy for effectively ending the inter-county careers of John Gardiner and Donal Og Cusack.
However, the 2005 All-Ireland winning captain - who announced his own retirement at the end of last year - says the axings didn't come as a surprise to him.
"I wouldn't say surprised by what happened because he (Barry-Murphy) did the same with Barry Egan," O hAilpin is quoted as saying in the Irish Examiner.
"Barry Egan won an All Star with Cork in '93 and, by '99, he would have been around John Gardiner's age now.
"Himself and Brian Corcoran would have been two experienced fellas and he just got rid of Barry Egan like that. "It was a harsh call so it's not surprising to me, knowing that he has done it in the past.
"But, look, I just get the feeling with the management team that they're trying to get ready for three years' time and they just don't see us around in three years' time, which is fair dinkum enough."
O hAilpin, who won the first of his three All-Ireland medals under Barry-Murphy in 1999, felt the axing of last year's captain Cusack was especially strange in light of his recovery from a serious Achilles injury.
"The reason Donal Og was the 'keeper he was, was because he had fellas like Anthony Nash and Martin Coleman chasing after him and pushing him hard," he added.
"That's the way competition should be. Anthony Nash had an outstanding season last year. Donal Og would have been the perfect foil to keep him on his toes.
"In John Gardiner's case, 29 or 30 years of age, it's not like Cork are top heavy with experience, especially in the back line. I would have felt that John had at least another two, three years easily in him. If not a starting place, then just to be there.
"I don't make the decisions. It's up to the management to make the calls.
"Cork are building the backline, midfield and forward lines. There is not much experience there in terms of guys with All-Ireland medals. For that reason alone, it would have been ideal to keep them there."
Most Read Stories