SFC: Farrelly denies Killygarry at the death
September 10, 2017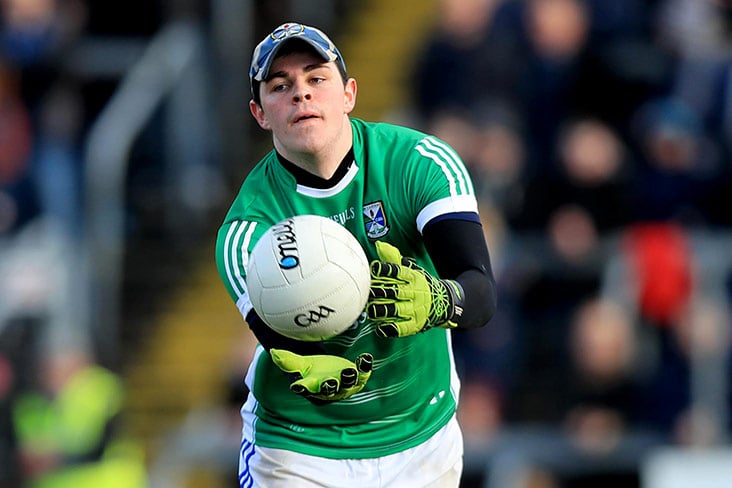 Kingscourt keeper James Farrelly
Kingscourt 1-10
Killygarry 0-12
Kingscourt Stars advanced into the semi-finals of the senior championship at Killygarry's expense tonight after coming through a high drama finish at Kingspan Breffni.
Joe Dillon's 46th minute goal turned this quarter-final encounter for the Stars but much of the talk afterwards surrounded the top drawer save their 'keeper James Farrelly produced to keep them in this championship
Having been ranked as 3/1 outsiders during the week, Killygarry took in a deserved two-point lead at half-time and had it bumped up to three before Dillon's perfectly timed strike rocked them to their core.
The Crubany men managed to pull level but couldn't get themselves back in the ascendency as points from Barry Reilly (free) and Philip Tinnelly ended up being the difference for the 2015 champions, but it was Farrelly's brilliant late denial on Conor Smith that was the winning of the game for them.
Killygarry nearly had two clear-cut opportunities for the perfect start to this hotly-anticipated last eight clash, with Donal Thomas pulling a goal chance just wide of Farrelly's post 23 seconds in before the Kingscourt net-minder guessed right in the very next minute to deny Martin Reilly from the penalty spot.
They were two let offs for the Stars and they'd eventually get motoring after Joe Dillon landed back-to-back points in the sixth and eighth minutes.
A well-struck 40-metre free from Darragh Gannon opened Killygarry's account on the 10-minute mark and the former Cavan minor squared the sides three minutes later.
Kingscourt came close to bagging the game's first goal in the very next attack and it would have come under fortuitous circumstances. After making some space for himself along the right flank, Barry Reilly tried an ambitious point effort which dropped down off the upright and got deflected into the path of Darragh Gunne, who fired the ball over the bar instead of under 'first time'.
Conor Smith set-up Gannon for his first from play and the sides would be level for the third time once Mattie McKenna leaned back a smashed one over from 45 metres, cancelling out Alan Clarke's effort at the far end.
Smith had been kept relatively quiet by counterpart Padraig Faulkner for most of the first-half but after the latter had drifted up to post himself a point, Killygarry's danger man inside was afforded the time and space to register his first of the night come the 25th minute.
The Crubany men finished out the half in much better fashion with Reilly swerving one over off the outside of his left boot before Gannon's third free - won by Brian Sheanon - left the scoreboard reading 0-7 to 0-5 at the halfway stage.
Barry Reilly had Kingscourt's deficit halved a minute into the resumption but a brilliantly struck free from opposite marksman Barry Reilly went all the distance from 50 metre, bouncing over off Farrelly's crossbar.
Gannon and Reilly combined to send Smith through for his second, making it 0-9 to 0-6 on 37 minutes, prior to Barry Reilly shooting over another before hitting the deck having been released by Colm Smith.
Down by two with some 20 minutes still remaining, Kingscourt boss Bernie Murray looked to sharpen up his attack by introducing Philly Smith and Sean Burke to the fray in a double substitution.
Immediate dividends would be paid as well with Smith involved in a slick move which saw an expertly carved pass from Barry Reilly release the veteran forward and he in turn found Dillon, who rattled the Killygarry net.
It gave Kingscourt back the lead and they'd never fall behind again, despite losing key defender Shane Gray to a black card in the 50th minute and allowing Gannon (free) and Ross Sheridan to draw matters level by outweighing a Faulkner '45'.
Despite their best efforts, Declan Sheridan's men wouldn't score again and they conceded an agonising 20-metre free - thanks to more strong work from Philly Smith - which was simply Barry Reilly's 'bread and butter'.
With two minutes added on, Killygarry hunted for an equaliser in injury-time and looked like making some headway when Martin Reilly broke through the centre but he was brilliantly robbed by former county colleague Philip Tinnelly, who went on to boot over and double the Stars' lead.
That left the Crubany outfit in sorely in need of a goal and they came so painfully close. Having thrown the majority share of their bodies in front of the Kingscourt, a lofted ball in fell to the perfect man but his rocket shot would be met by Farrelly's incredible parry as the men from the Meath border held on.
Kingscourt: James Farrelly; Cathal McKeown, Noel McIntyre, Shane Gray; Barry Tully, Alan Clarke (0-1), Ciaran Roe; Padraig Faulkner (0-2, 1 '45'), Colm Smith; Peter Corrigan, Christy McGowan, Barry Reilly (0-3, 1f); Darragh Gunne (0-1), Joe Dillon (1-2), Philip Tinnelly (0-1). Subs: Philly Smith for C Roe (42mins), Sean Burke for D Gunne (42), Keith McCabe for S Gray (51).
Killygarry: Patrick Galligan; Conor Connolly, Conor Bates, Eoin Smith; Martin Reilly (0-2, 1f), Daryl McKenna, Fergal Clarke; Ryan Brady, Matthew McKenna (0-1); Daniel Talbot, Brian Sheanon, Ross Sheridan (0-1); Darragh Gannon (0-5, 4f), Donal Thomas, Conor Smith (0-3). Subs: Padraig Cahill for F Clarke (HT), Enda Gallen for D Talbot (51mins), Cathal Keaney for B Sheanon (56).
Ref: Martin Sexton (Cavan Gaels)
Most Read Stories