SFC play-off replay: Cootehill's goals crush Ballinagh
September 06, 2017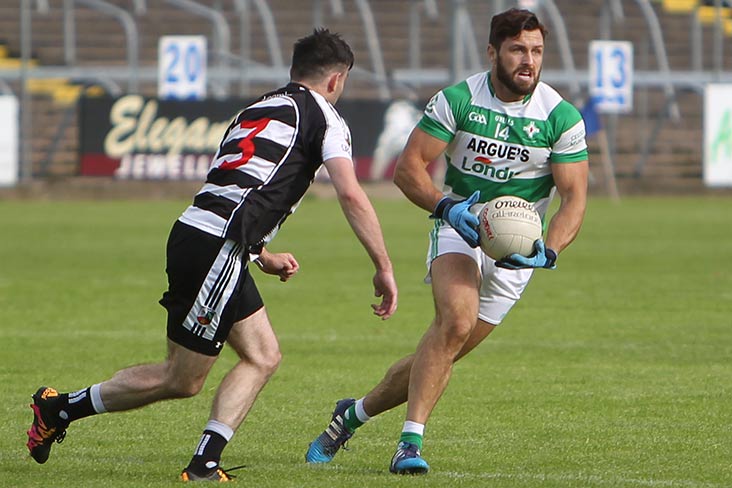 Cootehill's Colm Smith looks to lay the ball off as Fergal Smith Lavey closes in during the Cavan SFC game at Kingspan Breffni.
Cootehill 3-12
Ballinagh 0-11
Cootehill are through to the quarter-finals of the senior championship after downing Ballinagh with well-timed goals tonight at Kingspan Breffni.
With four goals not enough for Paddy Kelly's men to see off the same opposition last Saturday night, one less sufficed this time as star trio Tom Hayes, Enda Hessin (penalty) and John McCutcheon inflicted the telling damage on Ballinagh.
The victors here had trailed by three after the opening eight minutes but got themselves on level terms at 0-7 each five minutes before half-time, nabbing a crucial goal through the electric Hayes before the teams went in.
Ollie Fay's side conceded a penalty seven minutes into the restart, which Hessin expertly converted, prior to McCutcheon making sure that the Hoops' best worked move of the night would reap them three points, along with a quarter-final berth against either Cavan Gaels or Castlerahan to savour.
Ballinagh, who now face Crosserlough for the last remaining place in the last eight, were up and running inside the first minute through Thomas Moore and the 2013 champions certainly started this play-off replay better, as a pair of Eamon McEvoy points outweighed Hessin's first free of the night, making it 0-3 to 0-1 after six minutes.
McCutcheon hit the Cootehill response but Fay's men would be three to the good after an accurate free from Niall McDermott was backed up by Kevin Smith, who intercepted Sean O'Connor's stray pass and lashed over Ryan Carroll's crossbar.
Two Hessin frees - both won by Hayes at full-forward - had the gap back down to one for the Celts and their supremo Paddy Kelly would send on Carney brothers, Caoimhin and John, in the second quarter to try and put up the heat on Ballinagh.
Damien O'Reilly and Dean Connolly traded points to keep the margin at the minimum and Cootehill would have been in front on 17 minutes only for 'keeper Declan Beard denying Hayes with a fantastic parry.
Jamie Smith's night would be over early for the Hoops, getting himself blacked carded two minutes later, making the way for Caoimhin Carney's introduction.
O'Reilly's second point for Ballinagh was quickly followed by McDermott cracking a shot off the crossbar and from the break Caoimhin Carney floated over a point thanks to Dermie Connolly and Hessin combining to send the substitute through in some space.
McCutcheon had matters level at 0-7 apiece by the 25th minute and Kelly's charges would take maximum profit from their next tour, with Hessin firing an ambitious effort towards Beard's goal and livewire Hayes was on hand to bury in the rebound.
Hessin and Smith cancelled each other out in the added minutes, which had the score board reading 1-8 to 0-8 Cootehill's favour at the halfway stage.
Carney's second point had the margin at four within two minutes of the resumption and although McDermott (free) quickly erased it, things would start to fall apart for Ballinagh over the next 10 minutes.
An injury to McEvoy and the dismissal of David Finnegan to referee Noel Mooney's black card left them short-handed around the centre, forcing Smith to come back from the half-forward line and join Padraic O'Reilly.
In the 37th minute Hessin crashed in the Celts' second goal from the penalty spot, with McDermott having been adjudged to foul Hayes in the square just as he was about to pull the trigger.
The difference stayed at six after McDermott and Carney swapped points but the game was over a contest once Cootehill worked the move of the night and finished to Beard's net with a quarter of a hour still left on the clock.
McCutcheon's gather at centre-field saw the would-be winners string together some neat passes via Joshua Hayes, Shane Sexton and Stevie O'Connor before their midfield talisman palmed the ball home from close range, rewarding his untracked run forward.
To make matters worse for Ballinagh they'd have a penalty - earned by substitute Enda Brady (he'd also go on to see black) - saved by Carroll off McDermott, killing off any outside chance in the closing 10 minutes as sub Diarmuid Carney rounded off Cootehill's tally in injury-time.
Most Read Stories