SFC: Galligan saves Lacken's bacon in dramatic finish
August 21, 2016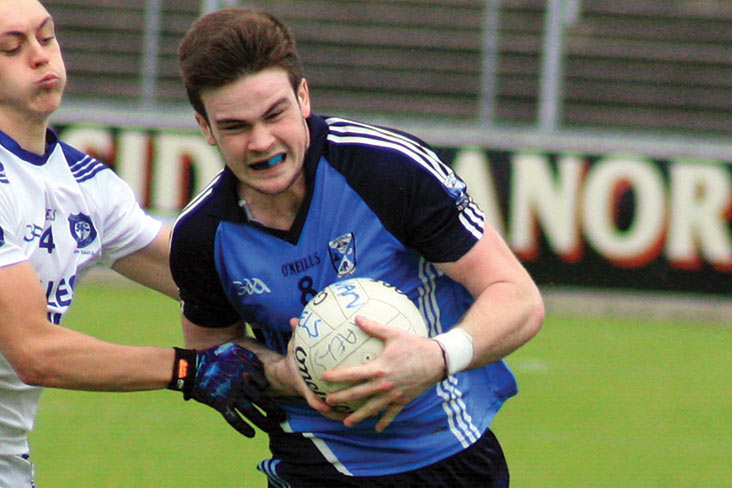 Lacken's Thomas Galligan
Lacken 2-6
Cuchullains 1-9
Lacken produced some real drama in injury-time tonight to salvage a draw against Cuchulainns and keep their senior championship hopes alive.
Down by six in the heavy rain at Kingspan Breffni Park, Finbar O'Reilly's side summoned goals from James and Thomas Galligan in the 64th and 65th minutes to rescue a draw after having stared elimination in the face.
Underdogs Cuchulainns never trailed in this fascinating contest, with 16 wides from Lacken over the hour helping their cause, and looked to have a quarter-final place wrapped up when Evan Doughty (1-4) supplied their goal with nine minutes to go.
Points from the excellent Adam O'Reilly and Doughty (free) gave Niall Lynch's side their six-point advantage heading into the added minutes and somehow their opponents took it from them, forcing a play-off to decide who'll join Cavan Gaels' conquerors Cootehill in the last eight.
Bryan Magee's well-struck free had the men from Mullagh up and running after five minutes but they looked to be in a world of trouble when goalkeeper Christopher Magee came under pressure from Lacken's front men and over-carried in his own square.
Referee Joe McQuillian awarded the penalty which Killian Galligan smacked off the crossbar and Cuchulainns' scrambling backs cleared the danger.
Doughty very nearly had the ball in the net at the other end but for a brilliant save from Colin Comerford to deny the corner-forward, getting the Crowe Park men off the hook early on.
Former Cavan minor O'Reilly added the Cuckoos' second point on 12 minutes, prior to Niall McKiernan posting a brilliant response for Lacken after fetching Comerford's kick-out.
Gary Daly set-up Doughty for Cuchulainns' next point, but that could well have ended up in the net too had the centre-forward kept his rocket shot a bit lower.
O'Reilly's second point had the leaders four to the good but the Sky Blues finished out the half impressively, with Thomas Galligan sending over and McKiernan measuring another left-footed effort from the flank to perfection.
Micheál Shanaghy put Conor Finnegan through for a third unanswered Lacken point, which left them just 0-5 to 0-4 behind at the halfway stage after an off-colour opening 30 minutes.
Conor Smith and Doughty (free) posted scores in the opening 12 minutes of the resumption to outweigh one from Stephen Brady and from there O'Reilly's men looked like kicking on.
The introduction of Damien McKiernan on 44 minutes saw his team mates immediately involving him in the action, as he sped away down the left and had his rasping shot directed over the bar by Magee's fingertips.
Shane Finnegan could have levelled the game four minutes later but instead posted Lacken's 12th wide of the evening, and there'd four more to follow.
Doughty's brilliantly taken goal in the 51st minute looked to be the winning moment for Lynch's men, and when O'Reilly backed up an inspirational score by earning a free for Doughty to sail over in the soaking rain the upset was right within touching distance for the Cuckoos.
However, Lacken didn't know when they were beaten here and were given life when James Galligan got on the end of a long ball in from McKiernan and crashed it to the back of the net.
Cuchulainns, with the majority of their men behind the ball at this stage, had five minutes of injury-time to defend a three-point lead and allowed it to fall perfectly into the hands of their counterparts, as Finnegan broke loose and delivered another lofted ball into the square where the ever alert Thomas Galligan got the last touch, ensuring these two sides meet again next weekend.
Lacken: Colin Comerford; Kevin Shanaghy, Daithi Wilson, Declan Brady; Craig Lanauze, James Galligan (1-0), Killian Galligan; Thomas Galligan (1-1), Shane Finnegan; James Moynagh, Niall McKiernan (0-2), Shane O'Reilly; Micheál Shanaghy, Conor Finnegan (0-1), Paul Leddy. Subs: Stephen Brady (0-1) for K Galligan (25mins), Shane Moynagh for M Shanaghy (40), Raymond Galligan for P Leddy (41), Damien McKiernan (0-1) for J Moynagh (44), Martin Brady for D Brady (60).  
Cuchulainns: Christopher Magee; John Flanagan, Aoghan Daly, Christopher Tully; Killian Lynch, Donnacha Dunne, Gavin Daly; Adrian Taite, Seamus Clarke, Bryan Magee (0-1), Gary Daly, Conor Flanagan; Evan Doughty (1-4, 3f), Conor Smith (0-1), Adam O'Reilly (0-3). Subs: David Carolan for B Magee (47mins), Andrew Mooney for Gary Daly (48), Liam Halpin for Gavin Daly (56).
Ref: Joe McQuillian (Kill Shamrocks)
Most Read Stories