SFC: Cootehill into quarters as Cavan Gaels crash out
August 20, 2016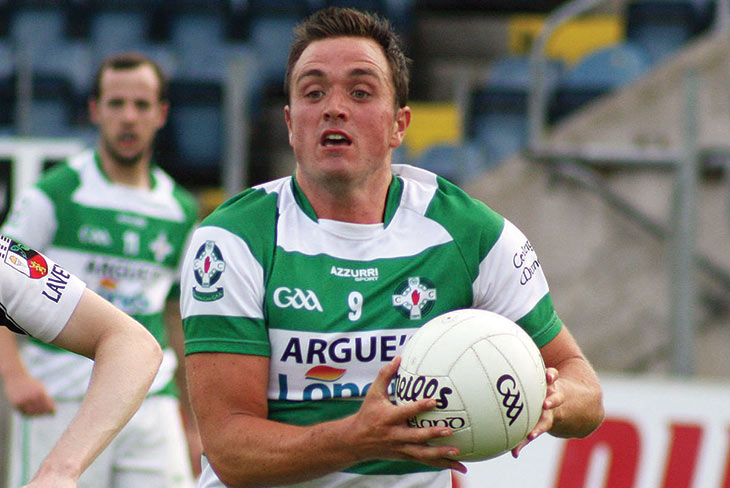 Cootehill's John McCutcheon
Cootehill 2-6
Cavan Gaels 0-10
Cootehill sprung a mega upset in the senior football championship tonight after ending Cavan Gaels' campaign at the group stages at Kingspan Breffni Park.
Goals from Colm Smith and Caoimhin Carney made all the difference for Ciaran O'Malley's men, as they recorded a long-awaited championship victory over the Gaels for their club by outscoring them 2-4 to 0-8 in the second-half.
Smith's major arrived five minutes after half-time and saw Cootehill take their first lead before surrendering it in the 49th minute to Martin Dunne's levelling point, but they had plenty left in the tank as Carney made the most of a lapse at the back from the favourites before John McCutcheon sealed the win for the Hoops in injury-time.
The first-half of this contest had been played in heavy rainfall and the half-time score-line (0-3 to 0-2) reflected it, as the game spanned 11 minutes before Dunne's 20-metre free arrived for the first score.
The former Cavan senior added another nine minutes later as Cootehill saw their first goal opportunity from Carney well smothered by Martin Cassidy in the Gaels goal on 18 minutes.
It took some magic from speedy centre-forward Enda Hessin to finally get the winners off the mark after 24 minutes, cutting by marker Niall Murray and lashing over off his left boot from some 35 metres out.
Hessin used the burners again to leave Daniel Graham behind and level the sides three minutes later, prior to Stevie O'Connor having another scoring opportunity well blocked by Kevin Meehan.
Micheál Lyng steered the Gaels back in front, give them the one-point lead at the interval, but Anthony Forde's side would ensure a disastrous restart in the bizarre circumstances. Having earned a '45' along the right flank, Cootehill put their trust in Smith to convert but the former Cavan minor's superb effort fell just short and ended up dipping under Cassidy's crossbar for all three points and the Celts' first lead.
Carney traded points with Gaels sub Kevin Brady to keep the difference at two and the lively Cootehill corner-forward would cancel-out Daniel Graham five minutes later to maintain his team's advantage into the last quarter.
Declan Meehan sailed over a fine score in response for the men from Terry Coyle Park and they looked to be level two minutes later, but Dunne's free from 25 metres came off the upright and the danger was cleared.
Smith could well have had a second goal but for some brilliant defending from Luke Fortune at full-back and at the other end Niall Murray was denied the net thanks to a heroic block from Sean O'Connor.
Dunne did bring the sides level with 11 to go but the response from O'Malley's charges was a devastating one, which saw them make the most of a mis-placed kick-out from Cassidy that allowed Tom Hayes to slip Carney in and the young dual star made no mistake in finding the net.
With the heat on, Dunne (free) and Paul O'Connor grabbed points to mark a quick recovery but when McCutcheon was pulled back on a trademark burst forward it was Hessin that kept his cool to convert the free from 30 metres and leave unimaginable looking more and more likely.
Sean Johnston's late introduction in this contest saw him earn a crucial free for Dunne to send over with a minute of regulation left.
Cootehill fetched the next kick-out however and showed supreme composure in the added minutes to work a time-consuming move that set McCutcheon free in front of goal and the ex-Cavan defender sealed a terrific triumph, sending his team towards a quarter-final date with either Castlerahan or Gowna while handing the Gaels a rare exit pre-knock-out stages.
Cootehill: Ryan Carroll; Sean O'Connor, Barry McGahan, Neil McCluskey; John Carney, Josh Hayes, Dean Connolly; Eoin Roche, John McCutcheon (0-1); Damien Sherlock, Enda Hessin (0-3, 1f), Stevie O'Connor; Caoimhin Carney (1-2), Tom Hayes, Colm Smith (1-0, 1 45). Subs: Glen Nulty for D Connolly (HT), Paul McCarney for C Smith (50), Mark Mullen for D Sherlock (58).
Cavan Gaels: Martin Cassidy; Kevin Meehan, Luke Fortune, Daniel Graham (0-1); Robert Maloney-Derham, Niall Murray, Levi Murphy; Declan Meehan (0-1), Niall Smith; Shane Fortune, Micheál Lyng (0-1), Paul O'Connor (0-1); Padraig Sexton, Martin Dunne (0-5, 4f), Andrew Graham. Subs: Kevin Brady (0-1) for P Sexton (28mins), Stephen Murray for S Fortune (HT), Sean Johnston for M Lyng (50).
Ref: Tony Gregory (Bailieborough Shamrocks)
Most Read Stories