SFC: Castlerahan topple Ramor for semi-final spot
September 14, 2015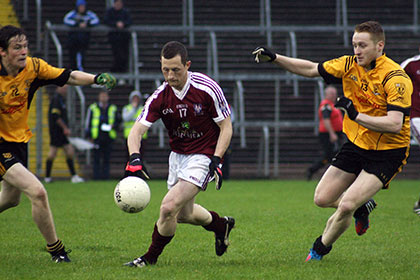 Castlerahan's Daniel Lynch gains possession as Cathal Maguire and Ado Cole (Ramor) close in during the Cavan SFC game at Breffni Park
Castlerahan 2-14
Ramor United 1-8
Castlerahan flexed their considerable muscle to dismantle Ramor United last night and move into the semi-finals of the senior championship.
Michael Reilly's team never trailed in this game, taking hold of it once Cian Mackey shot in a wonder goal for them in the third minute as they'd go on to lead by as many as 11 points come half-time with their danger men in fine shooting form for them.
Ramor, on the other hand, simply weren't at the races in this derby and could only post 0-3 during disastrous a first-half display.
The Virginia side, whom had pulled off an incredible comeback against Kingscourt Stars in the earlier rounds, did improve in the latter stages of the second-half, with Conor Bradley carrying the fight for them, but by that stage too much damage was done as Mackey, Enda Flanagan and the excellent Oisin O'Connell wrecked them at the other end.
For a contest that was largely one-sided, this quarter-final had some tremendous scores from both sides, including a rare 'own point' from Ramor defender Stefan Connolly. Under pressure from O'Connell, the corner-back drew on the ball to keep possession away from Castlerahan's number 12 and ended up sending it over his own crossbar.
By that stage the Ballyamesduff men had a 1-3 to 0-3 advantage, with Mackey and O'Connell posting their early scores before Jack Brady (2) and Bradley brought the difference down to three.
Ramor boss Gary Farrelly made some switches before-half time, replacing Connolly with Michéal Smart and the injured Kevin Mulvanny with Jack Doyle in attack, but they had far from an immediate impact as the black and ambers could only tally wides while their opponents went on a rampage of scoring until the short whistle.
After Cian McEnroe was axed down in Ramor's square in the 21st minute referee Joe McQuillan awarded a penalty which had to be retaken by Mackey after McQuillan had adjudged 'keeper Aaron Farrelly to have come off his line. Mackey made no mistake with the second attempt, chalking up his fifth goal in two games, and after Cormac Daly, O'Connell, Flanagan (free) and McEnroe backed up another gem from their talisman Mackey, Castlerahan looked to be in an unassailable lead by the break (2-8 to 0-3).
Points from Doyle (free) and Adrian Cole looked to try and stem the tide in the early stages of the second-half, but the performances of Fergal Reilly and Stephen Cooney in the maroons' defence ensured there'd be no easy way back into this game for Ramor.
Bradley would add a brace to his tally to try and take some of the tarnish off the score-line, but Castlerahan were still finding the gaps and could even afford to withdraw Mackey with 20 minutes to go with their semi-final now in mind.
Flanagan, Daniel Lynch and sub Sean Fitzpatrick stroked over the final quarter points that sealed victory for Reilly's men, before Ramor scrambled in a late goal via substitute Ronan Keating which was nothing but consolation.
Castlerahan: Jamie Leahy; Stephen Cooney, Alan Cusack, Paul Smith; Enda O'Connell, Fergal Reilly, Caolan McBreen; Cormac Daly (0-1), Barry Cusack; Ronan Flanagan, Cian Mackey (2-2, 1pen), Oisin O'Connell (0-3); Cian McEnroe (0-2, 1f), Daniel Lynch (0-1), Enda Flanagan (0-3, 2f). Subs: Brian Coleman for A Cusack (HT), Fergal Flanagan for C Mackey (40), Padraig McGahern for O O'Connell (55), Killian McEnroe for C Daly (57), Sean Fitzpatrick (0-1) for C McBreen (57), Jamie McGrath for E Flanagan (59).
Ramor United: Aaron Farrelly; Stefan Connolly (0-1, OP), Damien Barkey, Mark Magee; Eoin Sommerville, Adam O'Connell, Daire Sheridan; James McEnroe, Shane Cole; Kevin Mulvanny, James Bradley, Cathal Maguire; Jack Brady (0-2, 1f), Adrian Cole, Conor Bradley (0-3). Subs: Jack Doyle (0-1, 1f) for K Mulvanny (12mins, inj), Micheál Smart for S Connolly (23), Stephen Monaghan (0-2) for J Bradley (HT), Simon Cadden for E Sommerville (HT), Ronan Keating (1-0) for C Maguire (40), Brian O'Connell for S Cole (48).
Ref: Joe McQuillan (Kill Shamrocks)
Most Read Stories