SFC: Ramor bring the drama
August 16, 2015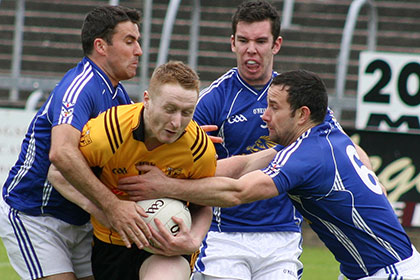 It takes three....Adrian Cole is tackled by Kingscourt`s Keith McCabe, Shane Grey and Alan Clarke during the Cavan SFC game at Breffni Park.
Ramor United 0-12
Kingscourt Stars 1-8
Ramor United produced a Lazarus-like comeback to hand Kingscourt Stars their second defeat in this year's senior championship this afternoon.
Gary Farrelly's team displayed their mettle for all to see at Kingspan Breffni Park as they came back from a seven-point deficit in the last 20 minutes, with star forward Jack Brady coming up trumps for them big time when the chips were down in injury-time.
Kingscourt had looked comfortable for so long in this contest and were certainly in good shape once youngster Peter Corrigan plundered in the game's only goal after 38 minutes, but Ramor got the spark they needed through a hat-trick of points from Eoin Somerville to get themselves back in the game.
With their opponent's ignited, Niall Lynch's side were on the back foot throughout the entire final quarter and their flood gates completely opened as they conceded 0-7 without a response in those minutes, which meant only one outcome, as Ramor clinched a thrilling victory.
The game had been delayed early on with an injury to the Virginia men's full-back Damien Barkey, who was thankfully able to continue, as they landed the first score after nine minutes via their left half-forward Cathal Maguire.
Christy McGowan pulled the Stars level five minutes later and things stayed even with Conor Bradley and Barry Reilly (free) cancelling each other out, but the Meath border men were starting to get a real foothold at centre-field. Ryan Carey had them in their first by the 17th minute and although a James Bradley free tied things up for a third time there looked to be only one team headed for the half-time lead, with Terry Reilly and Ciaran Gorman lording things around the middle.
Two points from Reilly, one of which was a 45 brought forward, bizarrely, by referee Brendan Sweeney some 20 metres, pushed Ramor adrift and they were lucky not to conceded a goal right on the stroke of half-time. Goalkeeper Aaron Farrelly did brilliantly to turn Darragh Gunne's rocket shot over the crossbar, which left it at 0-6 to 0-3 by the half-way stage.
Gary Farrelly switched things around for the second-half, introducing Brian O'Connell to midfield and dropping county man James McEnroe back to centre-back, with Ronan Fitzsimons making way.
The signs stayed ominous for the Dolan Park outfit though, as Kingscourt added 1-1 to their tally within eight minutes of the restart. Gunne's superbly hooked point was backed up by Corrigan cutting through Ramor's centre and applying a devastating finish beyond Farrelly.
Now down by seven, it didn't exactly bode well for the would-be winners but their transformation arrived just in time with Cole and O'Connell landing two vital scores in quick succession to give their side a fighting chance for the final quarter.
Gunne continued to be a torn in their side, notching his third point, but, incredibly, it would be Kingscourt's last score as Ramor owned the remaining 15 minutes on the clock. Cole and Somerville reduced the deficit to four ahead of Corrigan being denied a second goal after more heroics from Farrelly.
Had that hit the net it would have surely been curtains for Gary Farrelly's charges, but they stuck to the mission. The electric Somerville landed a quick brace of points, the second after brave work from sub Kevin Mulvanny, and when Jack Doyle sailed over a free they were only within one headed into injury-time.
After their young guns had pulled them back into contention, it was Ramor's county men that finished off the job in added minutes as McEnroe won possession, raced out defence and set up Brady on a run from where the livewire Cavan forward was able to apply the finish that had the umpire reaching for his white flag.
Kingscourt saw a late opportunity to go back in front come off the post from sub Daryl Martin and it allowed Ramor to catch them on the break, with Micheál Smart, a replacement for the injured Conor Bradley, speeding through on goal and getting axed down in a position which suited Brady for the winner.
Ramor United: Aaron Farrelly; Stefan Connolly, Damien Barkey, Mark Magee; Adam O'Connell, Ronan Fitzsimons, Daire Sheridan; James McEnroe, Stephen Monaghan; Eoin Sommerville (0-3), James Bradley (0-1, 1f), Cathal Maguire (0-1); Jack Brady (0-2, 1f), Adrian Cole (0-2), Conor Bradley (0-1). Subs: Shane Cole for D Sheridan (26mins), Kevin Mulvany for C Maguire (30), Brian O'Connell (0-1) for R Fitzsimons (HT), Jack Doyle (0-1, 1f) for J Bradley (38), Micheál Smart for C Bradley (45, inj), Sean McDermott for S Monaghan (51).
Kingscourt Stars: James Farrelly; Rory Sheridan, Shane Grey, Keith McCabe; Barry Tully, Alan Clarke, Mark McGovern; Terry Reilly, Ciaran Gorman; Ryan Carey (0-1), Philip Tinnelly, Peter Corrigan (1-0); Darragh Gunne (0-3), Christy McGowan (0-1), Barry Reilly (0-3, 3f). Subs: Paddy Farrelly for M McGovern (50mins), Tomas Malone for P Tinnelly (51), Daryl Martin for C McGowan (55), Thomas Wakely for S Grey (57).
Ref: Brendan Sweeney (Ballymachugh)
Most Read Stories