SFC: Gowna floor Lavey with incredible comeback
August 15, 2015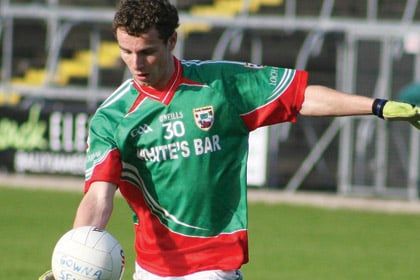 Gowna's Conor Madden
Gowna 3-8
Lavey 1-12
Two late goals saw Gowna stage a sensational comeback to stun Lavey tonight at Kingspan Breffni Park.
In what was hands down the best game of this year's senior championship competition thus far, the Longford border men showed terrific resolve to overturn a seven-point deficit in the closing 10 minutes, with veteran forward Gerald Pearson coming off the bench to orchestrate their decisive goal.
Lavey, who went on a mini scoring-spree before half-time to do away with a shaky start, will be wondering how exactly they lost this game, having spent most of the second-half in cruise control with a seven-point advantage before their opponents' late assault.
Shane Briody's 50th minute goal was so very salient in giving Mickey Harkins' team a bundle of belief down the final stretch, as they got level by injury-time. It was then that wing-back Andrew Dewart applied the finishing touch to a phenomenal comeback, keeping Gowna's championship hopes alive and ending Lavey's in the process.
It took all of 44 seconds for David Hyland to get Gowna off the mark with a 20-metre free earned inside by Conor Madden.
Stationed at centre-forward, Madden looked lively from the throw-in and caught Lavey's defence on a lapse in the third minute, racing through from his station on the 40 and burying a fantastic finish to the bottom corner of Conor Martin's net.
Credit to the New Inns men, they responded in the best possible fashion after Ray Cullivan spotted Dean Rutherford's run and he sped away to release Finbar Jordan on the edge of the small square, from where the former Cavan minor rifled to the net.
Robbie Fitzpatrick and Karl Duke (free) kept the difference at the minimum heading for the second quarter, when Lavey started to exert absolute authority on the game.
After a fine individual effort from Briody had nudged Gowna two in front, the men in black and white hoops landed the next seven scores to put themselves firmly in the driving-seat.
Duke's first from play was backed up by Shane Tierney reading a short kick-out from Stephen Leddy in the Gowna goal and sending over. Darren Jordan (free), Darragh Conaty and the electric Tierney continued to make the most of a profitable Lavey spell, as their opponents' scoreless spell moved towards a 20-minute period.
That trend continued right up until half-time, as Rutherford, Darren Jordan and an excellent Cullivan free put Lavey six to the good, 1-9 to 1-3, at the break.
Harkins introduced seasoned forward Pearson, recently returned from Canada, to the fray for Gowna for the start of the second-half and the former Cavan senior had an instant impact, sending over a gem along the right flank under pressure from maker Joey Jordan.
The would-be winners hadn't got their spark from Pearson just yet though, as Lavey worked a menacing move in the next attack which was finished over by Paul Gilchreest, who turned on the burners and flew past his man for the white flag.
Cullivan and Madden traded frees as the difference stayed at six until Briody weighed in with a colossal score for the trailers.
After picking up loose possession 40 metres out, the corner-forward darted to goal, kept his head down and blasted in a brilliant finish past Martin, breathing some much needed life into Gowna.
Fitzpatrick and Hyland added quick frees to keep the heat on Lavey, whom missed chances in the meantime to settle some nerves. Had one or two of those gone over it could well have been a different story.
With all the momentum, Gowna were doing all the threatening in the closing stages and a great pass from Madden along the left unlocked the Lavey defence once more, affording Hyland the time and space to sail over what looked to be the equaliser from full-forward.
Injury-time is where the drama happens though and it was a magical moment from Pearson that gave Harkins' men their chance, demonstrating some soccer skills to get out of the right corner and finding Dewart with a perfectly weighed pass and the Ulster MFC winner held his nerve to net what proved to be the winner.
Lavey threw the kitchen sink and more at their opponents in the remaining minutes but could only manage a Darren Jordan free, as a fantastic solo effort from Tierney, which looked headed for the top corner, was kept out by Leddy and Gowna saw out this remarkable victory.
Gowna: Stephen Leddy; Willie Stephens, Ryan McGahern, David Philips; Andrew Dewart (1-0), Emmet Madden, Shane Harton; Niall Madden, Ray Keogh; Mark McKeever, Conor Madden (1-1, 1f), TJ Fitzpatrick; Robbie Fitzpatrick (0-2, 1f), David Hyland (0-3, 2f), Shane Briody (1-1). Subs: Gerald Pearson (0-1) for TJ Fitzpatrick (HT), Ronan Sheils for S Briody (60), Ronan Bannon for W Stephens (60, BC).
Lavey: Conor Martin; David Conroy, Fergal Smith, Joey Jordan; Aaron Smith, Stephen Jordan, Darren Monaghan; Ray Cullivan (0-2, 2f), Dean Rutherford (0-1); Paul Gilchreest (0-1), Karl Duke (0-2, 1f), Darren Jordan (0-3, 2f); Darragh Conaty (0-1), Finbar Jordan (1-0), Shane Tierney (0-2). Sub: Darren Donegan for D Conroy (60mins).
Ref: Chris McCaffrey (Templeport)
Most Read Stories