Cavan SFC final: Lyng leaves it late for Gaels
October 12, 2014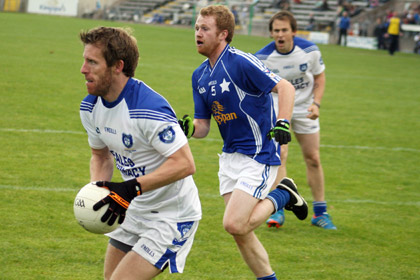 Cavan Gaels Michael Lyng with Kingscourt`s Barry Tully in pursuit during the Cavan SFC final at Breffni Park.
Cavan Gaels 0-16
Kingscourt 0-15
by Shane Corrigan
at Kingspan Breffni Park
Micheál Lyng's injury-time winner ensured Cavan Gaels their 13th senior championship success this evening after edging a thrilling finale against Kingscourt Stars.
Before 5,473 spectators at Kingspan Breffni Park, Peter Canavan's men came from behind to dictate the last 20 minutes of this decider with their talisman Sean Johnston (0-6) to the forefront.
Kingscourt led by the odd point in 15 at the halfway stage, having had centre-back Padraic Faulkner, who had been so instrumental for them on route to the final, sent off after 12 minutes but it was their knack in earning frees for Barry Reilly, scorer of 0-9, which had them in the ascendency for the best part of 40 minutes as an upset looked to be on the cards.
The Gaels discovered their rhythm in the second-half though and it was 'Man of the Match' Johnston they put their faith in, picking off scores to put them two in front heading towards the closing stages when their opponents looked to have snatched a late draw before Lyng's late intervention.
It took 23 seconds for the winners to open their account in this county final, latching on to the throw-in and sending Stephen Murray through on a menacing run which not one Kingscourt defender was able to get a touch on the speedy wing back, who took the point with the chance of three on.
It was an early let off for Niall Lynch's team and they were positive in their early approach to gain their first lead by the 10th minute with a pair of Reilly frees, the first of which was a gem from the right flank, and an Anthony Corcoran single outweighing Johnston's first.
Then came the big talking point which saw Stars centre-back Faulkner issued a straight red card by referee Oliver Og O'Reilly after a thunderous challenge on Gaels defender Levi Murphy just after the ball had passed. Murphy couldn't get up for several minutes after, eventually having to be withdrawn by Canavan, while Faulkner was sent to the line despite the protests of the Kingscourt contingent. 
A trademark '45' from Reilly soon resettled the Meath border men, as they opened up a two-point lead, but the Gaels weren't short of sources for scores with Barry Fortune, on as Murphy's replacement, and Declan Meehan raising white flags either side of Christy McGowan's effort.
Reilly continued to find his range to keep the Gaels at bay until Conor McClarey and Lyng punched holes through for overs that levelled matters in the 25th minute. After that it would be a shoot-out between Johnston and Reilly until the interval, with the latter's deadly accuracy making him two for two and giving his side the 0-8 to 0-7 lead for the half.
It took two minutes of the resumption for the Cavan town side to take back the lead they held in the early stages, as Robert Maloney-Derham and Meehan looped over points, and from there the confidence began to grow with some slick interchange inside giving them routes to scores.
Reilly continued to be a thorn in their side though, curling over a '45' superbly before brilliant work from Barry Tully saw him rob Dominic Reilly of possession and split the posts to put the Stars back in front. They were fortunate to avoid disaster a minute later though when Shane Grey pulled off heroics to turn Eamonn Reilly's goal bound effort over the bar.
Philip Smith would see the game's only black card soon after and it was the first real sign of the wheels beginning to come off for Kingscourt as Johnston struck 0-4 in the space of seven minutes to leave them two adrift after Corcoran and McGowan did their utmost with scores to stop the rot.
Paul Graham would also flash another goal chance just wide of James Farrelly's posts and had that one went in it would have surely been curtains for Kingscourt. They rallied in the last five minutes instead and drew level via Reilly's ninth free of the evening and a late effort from substitute Cian McArdle which looked to have earned a replay for the underdogs.
However, half a chance presented itself for the Gaels in the dying stages and they dually snuffed it out when their joint captain Eamonn Reilly kept possession alive for them and slipped Lyng through with a clever one-two along the end line, from where the centre-forward was able to fist over the winner and break Kingscourt's hearts.
Ugly scenes followed O'Reilly's final whistle, requiring the Mullahoran official to be escorted off the field, but the Gaels' euphoric supporters were already in party mode by that stage, as they watched and roared with delight when joint-captains Reilly and Martin Dunne hoisted the Oliver Plunkett Cup from the podium.
Cavan Gaels: Martin Cassidy; Niall Gurhy, John Fortune, Niall Murray; Stephen Murray (0-1), Eamonn Reilly (0-1), Levi Murphy; Dominic Reilly, Robert Maloney-Derham (0-1); Declan Meehan (0-2), Micheál Lyng (0-2), Daniel Graham; Sean Johnston (0-6, 3f), Andrew Graham, Conor McClarey (0-1). Subs: Barry Fortune (0-1) for L Murphy (15mins, inj), Vinny Coyle (0-1) for A Graham (22), Paul Graham for D Graham (HT), Martin Dunne for D Reilly (48), Kevin Meehan for D Meehan (60).
Kingscourt: James Farrelly; Rory Sheridan, Thomas Wakely, Shane Grey; Barry Tully (0-1), Padraic Faulkner, Keith McCabe; Alan Clarke, Kieran Gorman; Philip Tinnelly, Christy McGowan (0-2), Mark McGovern; Barry Reilly (0-9, 7f, 2 '45s), Philip Smith, Anthony Corcoran (0-2). Subs: Colm Smith for K Gorman (27mins), Tomas Malone for P Smith (42, b/c), JP Reilly for M McGovern (45), Paddy Farrelly for S Grey (53), Cian McArdle (0-1) for R Sheridan (57, inj), Ryan Carey for C McGowan (59).
Ref: Oliver Og O'Reilly (Mullahoran)
Most Read Stories