JFC: Arva edge into decider
September 20, 2014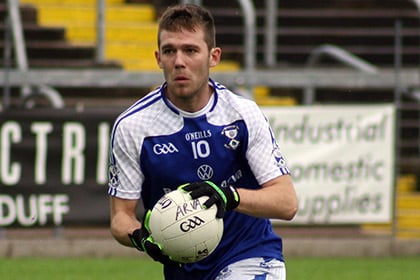 Arva's Peter Morris
Arva 2-11
Cornafean 2-10
Arva edged into their second consecutive junior championship final tonight after overcoming neighbours Cornafean at Kingspan Breffni Park.
It was well-timed goals which helped Ciaran Brady's men over the line in this derby, as strikes from key forwards Kevin Bouchier and Jonathan McCabe in either half were just enough to keep Cornafean at bay.
McCabe's major in the 57th minute proved the salient score of the evening, as it put the Reds five adrift with time running out, and despite a late scare via Niall Sheridan it was the Michael Cully Park men that saw out the deserved win to book their final date with Ballymachugh.
This derby got off to an exciting start with the teams splitting four points between them inside the first three minutes, which saw Barry Doyle and Jack Wharton's efforts being cancelled out by Conal Sheridan and Jonathan McCabe.
McCabe gave Arva their first lead in the sixth minute with a point launched over from all of 45 metres and Ciaran Brady's men almost hit the jackpot when Brian Ellis was put through on goal but the corner-forward rattled the side netting.
The Longford border side would have to settle for points from Peter Morris and Conal Sheridan (free) instead before Doyle grabbed a sorely needed score from a placed ball to stem the tide for Cornafean.
The Reds could have had a goal soon after had Pauric Tully kept his rocket shot down, but it whistled over Richard Keith's crossbar instead and when Doyle's second free did likewise it was all square at 0-5.
Arva's cause wouldn't be helped when Conor McEntee received a black card, meaning an early introduction for Gavin Doyle, but it would be greatly boosted when Kevin Bouchier cut in past Mark Johnston from the right and blasted the ball beyond Andrew Smith to the Cornafean net.
McCabe rifled over his third in the next attack, as Arva looked to turn the screw, but it was their opponents that edged the closing stages of the half with points from Doyle (one a free), leaving it at 1-6 to 0-7 for the interval.
Liam Duignan and McCabe (free) exchanged the opening points of the half before Conal Sheridan put in some brave work to send over and put a goal between the sides.
Two Bouchier frees cushioned the Arva lead to five and their neighbours badly need to make something happen as things were slipping away from them with 10 minutes left.
A Doyle free was a start and although the centre-forward saw black soon after, the Reds would be lifted when Gerry Sheridan earned them a penalty in the 53rd minute which he coolly stroked in himself.
It was certainly game on after that but it was Arva that dug deepest in last five as they crucially grabbed the next score which saw Bouchier making and fine fetch before being fouled on the way down and converting the resultant free from the ground.
A minute later and McCabe had the ball in the back of the Cornafean net after Conal Sheridan recovered his shot and set-up the centre-forward in a position where he couldn't miss.
A Gerry Sheridan free on the eve of the hour mark ensured that Cornafean would have an outside chance towards the end and a late goal from Niall Sheridan made their opponents sweat in the dying stages.
Arva held on though and it sets up and exciting clash with Ballymachugh next month for the Sean Leddy Cup.
Arva: Richard Keith; Cormac McCabe, James Morris, Shane Finnegan; Thomas Brady, Ciaran Brady, Paul Bouchier; Fergal McGlade, Brian Ellis; Cian Sheridan, Jonathan McCabe (1-4, 1f), Peter Morris (0-1); Conor McEntee, Kevin Bouchier (1-3, 3f), Conal Sheridan (0-3, 1f). Subs: Gavin Doyle for C McEntee (23mins, b/c), Brian Fitzpatrick for Cian Sheridan (HT), Stephen Ellis for T Brady (50, inj), Sean McManus for S Finnegan (53), Alan Barry for Conal Sheridan (59).
Cornafean: Andrew Smith; Paul Brady, Mark Johnston, Dan Wharton; James Cullen, Ciaran Duignan, Niall Corcoran; Cormac Geogehegan, Liam Duignan (0-1); Pauric Tully (0-1), Barry Doyle (0-6, 4f), Gerry Sheridan (1-1, 1pen, 1f); Jack Wharton (0-1), Niall Sheridan (1-0), Adrian McCaffrey. Sub: Jason Miney for B Doyle (52, b/c).
Ref: Michael Lee (Drumalee)
Most Read Stories