SFC: Ruthless Gaels tear Lacken apart
September 19, 2014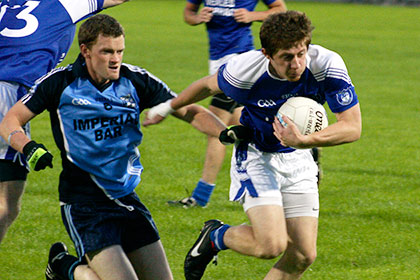 Lacken's Kevin Shanaghy with Levi Murphy of Cavan Gaels.
Cavan Gaels 5-9
Lacken 0-6
Cavan Gaels booked another slot into the semi-finals of the senior football championship tonight after crushing a disappointing Lacken outfit with five goals.
For the first time this season, Peter Canavan's team flexed their considerable muscle at Kingspan Breffni Park, never looking back once Paul Graham netted their third goal in the 38th minute, as their opponents looked a shadow of the team that forced a draw with them seven days previous.
Graham (2-1) and Declan Meehan (2-4) were the chief tormentors for Gerry Cadden's team, whom had just two scorers over the hour, while Michael Lyng and Niall Murray constantly pulled the strings which often saw defenders struggling to get a hand on the Gaels speedy attackers on their route to goal in the second-half.
It wasn't all one-way traffic though. After falling three behind, Lacken drew level by the 23rd minute but couldn't prevent Robert Maloney-Derham and Meehan from finding the net before half-time, and when the Gaels' third major went in via Graham their place in the last four alongside Cuchullains was all but booked.
The opening stages of this quarter-final replay were niggley and failed to see Lacken register a score throughout the first quarter, as the would-be winners built a 0-3 to nothing lead with points from Graham, Conor McClarey and Levi Murphy (free).
Heated scenes soon followed Murphy's placed ball and the brawl spilled over to the sidelines before things settled down and Lacken eventually settled into the game with a 40-metre free from Finbar O'Reilly.
The former Cavan marksman doubled his team's tally a minute later and when Niall McKiernan and Raymond Galligan combined to set-up Philip Moynagh, the corner-forward was dragged down in a position which suited O'Reilly for his third in four minutes.
After their slow start, Cadden's side looked to have fully recovered until Meehan collected a pass from Murray and ripped through their centre to offload to an oncoming Maloney-Derham, who buried the ball past Colin Comerford in the Lacken goal.
Maloney-Derham's strike came at the perfect time for the Gaels and a disastrous one from their opponents' perspective.
In fact, Lacken didn't string together another chance before Canavan's men had the ball in the net again on the eve of half-time, after Lyng intercepted Thomas Galligan's pass and darted towards goal, where he dished off to Meehan, who did the rest, leaving it at 2-3 to 0-3 for the break.
Early points from McKiernan (free) and O'Reilly narrowed the deficit to four after two minutes of the resumption, but that was about as good as it got for Lacken as the Terry Coyle Park men ran riot from here on out.
As Lacken struggled for scores, Lyng, Meehan and Murphy made raising the umpire's white flag look easy and when the former sent Graham through with a pass that cut Lacken's defence wide open, the flood gates were well and truly opened.
It meant the Gaels could afford to withdraw the likes of Lyng and Eamonn Reilly for the final quarter, as Meehan and Graham banged in more goals to seal the deal and leave their opponents to rue a demoralising defeat, having come so close to an upset last week.
A McKiernan free in the 51st minute ended a 20-minute scoring drought for Lacken before the former Cavan U21 ace joined Conor Finnegan, who received a black card after a yellow, on the sidelines having picked up a late red card.
It made little difference though, as the men from Crowe Park were dead and buried by that stage and a brace of points from Meehan rounded off the rout for the Gaels, who now look forward to a date with Cuchullains for a county final berth.
Cavan Gaels: Martin Cassidy; Niall Gurhy, John Fortune, Daniel Graham; Stephen Murray, Eamonn Reilly, Niall Murray; Dominic Reilly, Robert Maloney-Derham  (1-0); Paul Graham (2-1), Michael Lyng (0-1), Levi Murphy (0-2, 1f); Declan Meehan (2-4, 2f), Andrew Graham, Conor McClarey (0-1). Subs: Sean Johnston for C McClarey (36mins), Barry Fortune for N Gurhy (39), Kevin Brady for M Lyng (42), Sean Fitzsimons for E Reilly (48), Martin Dunne for K Brady (48, inj).
Lacken: Colin Comerford; James Moynagh, Shane Finnegan, Declan Brady; Daryl Buckley, Kevin Shanaghy, Damien McKiernan; Michael Shanaghy, Conor Finnegan; Thomas Galligan, Niall McKiernan (0-2, 2f), Stephen Brady; Philip Moynagh, Raymond Galligan, Finbar O'Reilly (0-4, 2f). Subs: David Wilson for D McKiernan (36mins), Joe Crowe for R Galligan (47), Killian Galligan for D Buckley (52).
Ref: Tony Gregory (Bailieborough Shamrocks)
Most Read Stories