SFC: Four-goal Lacken see off Lavey
September 01, 2014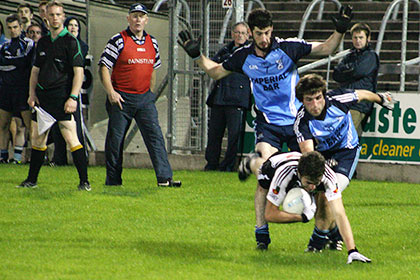 Down....and out. Lavey`s Karl Duke hits the deck against Lacken`s Damien McKiernan and Paul Leddy during the Cavan SFC game at Breffni Park
Lacken 4-6
Lavey 0-11
Three second-half goals proved more than enough for Lacken to overcome Lavey's challenge in the senior championship tonight at Kingspan Breffni Park.
Gerry Cadden's team never really looked back in this encounter once they grabbed their first goal through Joe Crowe on the eve of half-time as they'd net twice more in the space of 10 minutes through Finbar O'Reilly and Niall McKiernan to leave Lavey playing catch up throughout the entire second-half.
The New Inns side battled back bravely with scores from young stars Chris Conroy (0-3) and Gerard Smith (0-3) to try and cancel out the concession of too many majors, but they'd end up doing so in vain as they entered injury-time with a four-point deficit which was increased to seven once O'Reilly had the final say. 
Lavey marksman Conroy moved  his team into their first lead after the opening minute but it wouldn't take Lacken long to establish their first lead after points from McKiernan and O'Reilly saw them into a sixth minute advantage.
Cavan U21 defender Smith, operating at corner-forward for the black and whites, levelled the sides by the 11th minute but it was Cadden's men that were having more joy in establishing a lead to build on as old reliables O'Reilly (free) and Ray Galligan put them two in front.
Colin Comerford did brilliantly to deny Lavey a goal in the meantime, as his outstretched leg blocked Karl Duke's effort from hitting the net, and there wouldn't be much to brag about for Lavey in the last 10 minutes of the half bar a well-executed free from Ray Cullivan that sailed over from the right flank.
In injury-time, Lacken managed to make the most of a break in play which saw McKiernan fielding a high ball and offloading to Galligan, who quickly found Crowe's run and the veteran midfielder blasted to the net with Lavey 'keeper Killian Torsney, who replaced the suspended Conor Martin, stranded, giving them a 1-4 to 0-3 advantage to work with in the second-half.
Darren Monaghan looked to set the tone early for the trailers in the restart, pointing after being sent through by Darren Jordan, and when Cullivan found enough time and space to blast over the deficit was down to two within as many minutes of the resumption.
Disaster would hit Michael Tynan's men soon after though when a long ball in aimed at Galligan saw Killian Torsney come for it an miss his clearance, allowing O'Reilly to pounce and palm to the net for his side's second three-pointer.
To their credit, Lavey recovered well and brought it back to within a score after Cullivan (free) and Conroy each raised the umpire's white flag in the space of a minute. Smith struck over their third score on the trot before Michael Shanaghy eventually disrupted their rhythm with a menacing dash through the centre which he finished over coolly.
The killer blow landed in the 47th minute when substitute Thomas Galligan gathered possession at centre-field and sent McKiernan on his way and the former Cavan senior's effort of a point dropped short into the net.
Recovering from that one would be a big ask for the New Inns outfit but they did dig and grabbed scores via Darren Jordan (free), Conroy (45) and Smith (free) to cancel out the crucial mistake, before Thomas Galligan split the posts with a fantastic effort to cushion Lacken's lead back to four with five minutes to go.
Lavey's misery would be complete when they lost Duke to a red card on the hour mark as their opponents ensured the win with a last minute goal from seasoned forward O'Reilly that assured them of a place in the next round.
Lacken: Colin Comerford; James Moynagh, Shane Finnegan, Declan Brady; Daryl Buckley, Kevin Shanaghy, Damien McKiernan; Michael Shanaghy (0-1), Joe Crowe (1-0); Paul Leddy, Niall McKiernan (1-1), Stephen Brady; Philip Moynagh, Ray Galligan (0-1), Finbar O'Reilly (2-2, 2f). Subs: Thomas Galligan (0-1) for P Leddy (46mins), David Wilson for S Brady (60).
Lavey: Killian Torsney; Dean Rutherford, Fergal Smith, Kevin Donohoe; Aaron Smith, Joey Jordan, Stephen Jordan; Ray Cullivan (0-3, 2f), Shane Conaty; Paul Gilchreest, Darren Jordan (0-1), Darren Monaghan (0-1); Chris Conroy (0-3, 1 '45), Karl Duke, Gerard Smith (0-3, 1f). Subs: Darragh Conaty for S Conaty (29mins).
Ref: Martin Sexton (Cavan Gaels)
Most Read Stories