Awards for Mackey and Ryan
August 06, 2013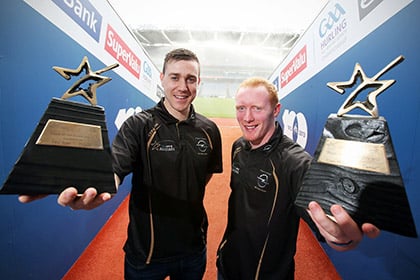 Dublin hurler Paul Ryan and Cavan football Cian Mackey with their awards. INPHO
Cian Mackey and Paul Ryan win GAA GPA Player of the Month Awards for July, Sponsored by Opel
The GAA/GPA All-Stars sponsored by Opel are delighted to announce Cian Mackey (Cavan) and Paul Ryan (Dublin) as the Players of the Month for July in football and hurling respectively. Both selections, chosen by the inter-county playing body, are presented in recognition of the players' outstanding contributions during what has been a memorable month of championship action.
A stand-out performance from Paul Ryan in the Leinster SHC Final against Galway, just a week after their replay victory over Kilkenny, saw Dublin secure the county's first Leinster senior hurling title in 52 years. The Ballyboden St. Enda's man scored an impressive 2-7 in the match, setting Dublin up for a semi-final showdown against Cork next Sunday.
After excellent performances during the Qualifiers, Cian Mackey's magnificent display against a defiant London side set the Breffni men on their way to victory in Croke Park last month and secured a quarter-final appearance for Cavan against Kerry.
GAA Commenting on the announcement, Uachtarán Chumann Lúthchleas Gael, Liam Ó Néill said: "It's been an incredible summer to date in both championships in no small part thanks to the breakthrough victories of counties starved of success.
"Dublin's hurling emergence in Leinster was as impressive as any and Paul Ryan played his part in that win with an eye catching corner forward display.
"On the football front Cavan's run to the last eight of the championship mobilised their huge support and caught the imagination of the county and Cian Mackey was consistently outstanding in their run. I congratulate both players and remind them that there is no higher compliment that being honoured by your peers."
GPA Chief Executive Dessie Farrell commented: "I would like to congratulate Cian and Paul for their outstanding contributions to their respective county efforts during the month of July. While both players will be quick to point to the collective effort, to receive the endorsement of their fellow players during what is certainly a historic and enthralling championship season is particularly noteworthy. Thanks to all the players who cast their votes last week and to Opel for its dedication to the All Star Awards schemes and its commitment to supporting Gaelic games." 
Dave Sheeran, Managing Director, Opel Ireland, said, "During one of the most entertaining and exciting championship seasons I've ever experienced, I am delighted to present Paul Ryan and Cian Mackey with the Opel sponsored GAA/GPA All Star Player of the Month Award for July. Both players are well-deserved winners this month, having delivered outstanding performances in July, helping their respective counties to secure historic wins.
"We also look forward to our next Opel Kit for Clubs Blitz Day, which will take place in Dublin in the lead-up to the All Ireland Football Final. The event, developed in partnership with Airside Opel, and will feature appearances by some of the Opel Kit for Clubs ambassadors.
"The Opel Kit for Clubs initiative, as well as our continued sponsorship of the GAA/GPA All Star Awards, further strengthens our commitment to the profile and development of Gaelic Games."
For further information
O'Leary PR: Sarah Corr or Sarah Gallagher
[email protected]
/
[email protected]
(01) 6789888
GPA: Seán Potts, 01857 5686,
[email protected]
GAA: Alan Milton, 01 836 3222,
[email protected]
Monthly Award Winners:
Each month, between May and October, a Footballer and a Hurler are awarded for their performances in the Provincial and All-Ireland Championships. Players are short-listed by members of the All-Stars Steering Committee and the winners selected by the county playing body. Each winner receives €1,000 and a trophy.
Most Read Stories