Colleges: John the Baptist show no forgiveness to Scoil Mhuire
March 14, 2017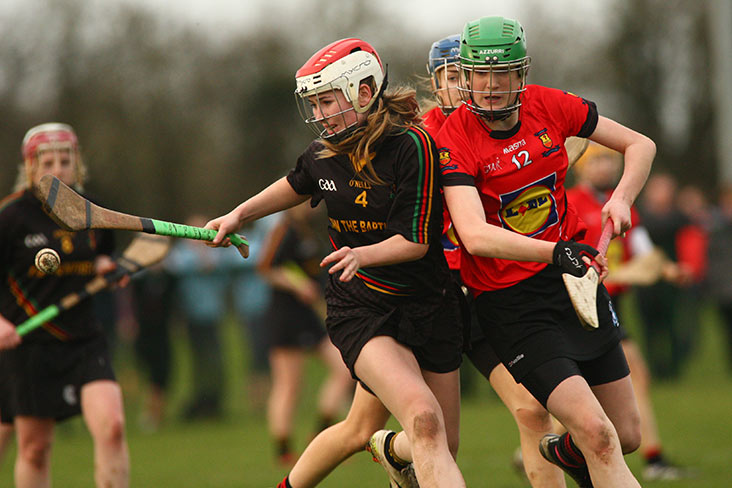 Anna Bonnar John the Baptist with Scoil Mhuire's Leah Devine during the All Ireland Colleges Senior D camogie final at Trim.
TO VIEW A SELECTION OF PHOTOGRAPHS FROM THIS GAME CLICK HERE
A strong second half showing from John the Baptist Community School paved the way for this All Ireland Post Primary Senior D Camogie Championship final success over Scoil Mhuire at St Lomans Trim.
John the Baptist CS Limerick 3-10 Scoil Mhiure Trim 1-8
The Limerick school were first on the scoreboard but the home team stormed into the game and led 1-4 to 0-1 after 15 minutes with points from Leah Dennehy, Katie Mulvihill, Leah Devine and 1-1 from centre forward Caroline McLoughlin Quinn. 
Slowly the visitors began to dominate the remainder of the half. Player of the match Anna Rose Kennedy led the way with three points before Caitlin Kennedy and Emma Morrissey got in for goals to give John the Baptist a 2-5 to 1-5 lead with seven minutes remaining.
The John the Baptist squad
Trim fought back and a brace from McLoughlin Quinn narrowed the gap to the minimum but just before the half time whistle John the Baptist got in for a crucial third goal. Andrea O'Sullivan found the Trim net to send her team in at the break 3-5 to 1-7 in front.
The Limerick school dominated the second half and limited Scoil Mhuire to few chances in the opening twenty minutes. O'Sullivan (2), Katie Heelan and Kennedy (2) extended their lead. Scoil Mhuire had to wait till the final minutes for their only score of the half. Caroline McLoughlin Quinn pointed after a period of sustained pressure. 
The Scoil Mhuire squad
After the game John the Baptist captain Caoimhe O'Brien was presented with the All Ireland Senior D Cup by Cait Ni Noraigh while the very impressive Anna Rose Kennedy was presented with the Player of the Match Award.
Amazingly the two schools will meet again in the All-Ireland Post Primary Schools Junior D final next week in Limerick.
John the Baptist scorers: Anna Rose Kennedy 0-6, Andrea O'Sullivan 1-3, Emma Morrissey and Caitlin 1-0 each, Katie Heelan 0-1
Scoil Mhuire scorers: Caroline McLoughlin Quinn 1-5, Leah Dennehy, Leah Devine and Katie Coleman 0-1 each
John the Baptist CS: Andrea kate Collins, Ciara Ryan, Aisling O'Brien, Anna Bonar, Eva Butler, Grainne Ryan, Sarah Morrissey, Coaimhe O'Brien, Katie Heelan, Emma Morrissey, Andrea O'Sullivan, Anna Rose Kennedy, Aisling Ryan, Caitlin Kennedy, Sinead McElligott. Subs: Keeva O'Brien, Maeve Barry, Roisin Carroll.
Scoil Mhuire Trim: Hannah Morgan, Katie Duffy, Amy Duffy, Ciara Foley, Laura O'neill, Aisling Walshe, Niamh Costello, Sarah Ennis, Sophia Payne, Leah Dennehy, Caroline McLoughlin Quinn, Leah Devine, Maeve Coleman, Katie Mulvihill, Megan Loughran. Subs: Jessica Potteron, Rian Kearns, Hannah Kealy, 
Referee: Gavin Donegan
Most Read Stories