Feeleys sponsor new kit for Lámh Dhearg Minor footballers
May 11, 2014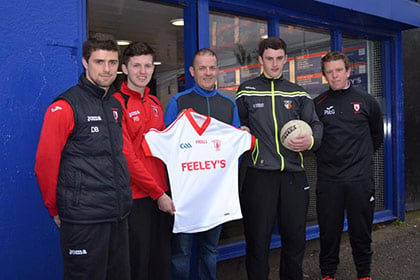 Feeley's sponsor new kit for Lámh Dhearg minor footballers
Alan Feeley from Feeleys Fish and Chip Shop, Shaws Road, presented a new sponsored kit to Joint Managers, Deaglan Bunting and Peter Martin McGuigan and captain Ryan Straney and vice captain Paddy Mervyn.
The club and Minor Football Management and Panel would like to acknowledge the generosity of Feeley's Fish and Chip Shop.
Joint Manager, Peter Martin McGuigan commented " We are very appreciative of Feeley's Fish and Chip Shop generous sponsorship of our new kit .
Proprietor of Feeley's, Alan remarked, " We are delighted to become a partner of one of our local prominent GAA clubs who are doing a fantastic job in serving our community in promoting and developing gaelic games and wish the minor management and footballers all the best this season.
Most Read Stories