Refs chief backs unlucky Cleere
July 30, 2019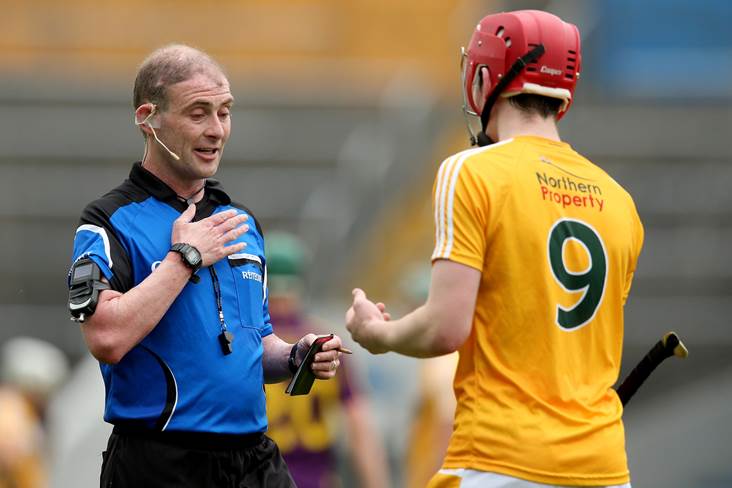 Referee Sean Cleere.
©INPHO/Ryan Byrne.
Referees' chief Willie Barrett says Sean Cleere was unfortunate with the second disallowed Tipperary goal on Sunday.
Cleere ruled out three Premier County majors during the course of their battling All-Ireland semi-final victory over Wexford at Croke Park.
The first one from Michael Breen was chalked off for an innocuous-looking foul in the build-up; the second – finished to the net by John McGrath - was cancelled out when Hawk-Eye deemed that Lee Chin's free had in fact gone over the crossbar before being caught by Brian Hogan more than 30 seconds and two phases of play earlier; the third from Jake Morris was erroneously scrapped when an advantage wasn't played.
Barrett says the rather bizarre Hawk-eye incident was out of the Kilkenny official's hands: "In fairness to the guy, Sean Cleere's integrity, the one thing for certain, it's not in question," the Tipp man told The Irish Daily Star.
"The Hawk-eye one, he was unfortunate with. He got a clear instruction on Hawk-eye – the umpires did – not to call Hawk-eye and if that scenario did arise that Hawk-eye would in actual fact make the call for him.
"Unfortunately, in the meantime, a goal was scored and that's what caused the real problem. He was a bit unlucky in that one. Hawk-eye would have looked at it more than once – that may be the reason for the delay. I'm not sure what it was."
Most Read Stories