Hurling comes to the Sunshine Club in Athlone
February 09, 2020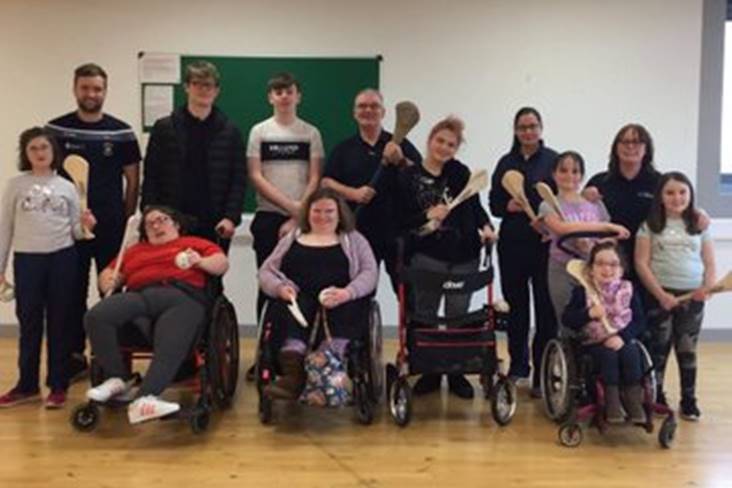 The Irish Wheelchair Association's Sunshine Club in Athlone enjoy some hurling.
The Irish Wheelchair Association's Sunshine Club in Athlone brushed up on their hurling skills when Westmeath senior hurler and Westmeath GDA (Games Development Administrator) Tommy Gallagher paid them a visit last Saturday morning.
The Sunshine Club provides monthly activities for children with disabilities and Tommy was delighted to accept an invitation from Mary-Kate Duignan, Sports Inclusion Development Officer with Westmeath Sports Partnership, to provide a coaching session at the Clonbrusk Resource Centre.
"The kids picked up the basic skills very quickly. They all started hurling with a big ball and by the end of the session they were all playing with a small ball," the Castlepollard clubman explained.
"I'd like to thank them for the warm welcome and the great effort made by all."
Tommy intends giving more coaching sessions to the Sunshine Club and other similar groups across the county in the future and also hopes to see an Inclusion Summer Camp for children with disabilities held in Westmeath this year.
"They ran an Inclusion Summer Camp in Cavan last year and it was a huge success. It would be great if we could have something similar here in Westmeath," he added.
Also last Saturday, the Sunshine Club was presented with a cheque for €2,000 from the Athlone Rotary Club from their annual Christmas Tree of Remembrance fundraiser.
Most Read Stories