Gerry Reilly Cup: Big win for Royals
July 08, 2019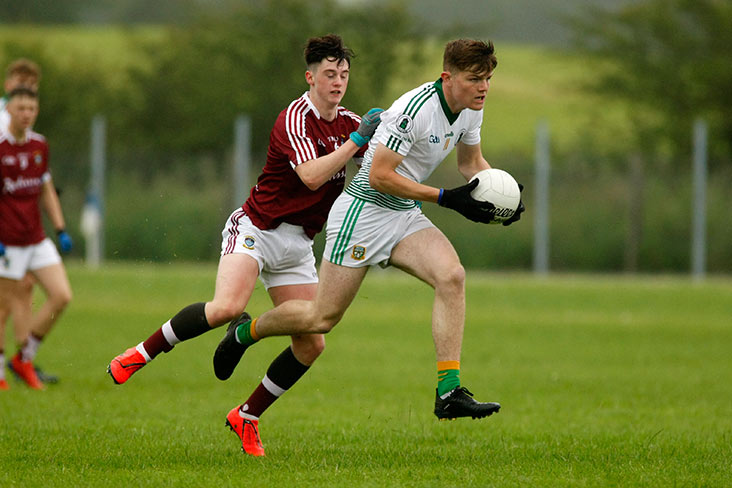 Meath's Oisin Keogh gets away from Jake Costello Westmeath during the Gerry Reilly Cup game in Millbrook.
Meath 7-14 Westmeath 0-8
Meath got off to flying start to the Gerry Reilly Leinster U16 FT Round 3 game played in Millbrook, Oldcastle. To view photos click here
Eoghan Frayne's goal attempt was deflected out for a 45 by the Westmeath 'keeper, Peter Dalton and Eoghan converted for the opening score.
Oisin Keogh made it 2 points for Meath from a free. Goals by Alan Bowden & Liam Stafford was putting it up to Westmeath. Alan Malynn got Westmeath's first score with a fine point. Indeed he was unlucky soon after when is goal attempt went just wide of the post. Westmeath added 4 points to their tally before the break , while Meath added 1-3 to their's.
H/T: Meath 3-6 Westmeath 0-4
Westmeath added 2 points & Meath 4 points before Alan Bowden scored Meath's 4th goal. Meath went on to finish strongly and the result was never in doubt. Both teams brought on a lot of substitutes with unlimited substitution in force.
Next up for Meath is away to unbeaten Cill Dara in Rd.4 (13 July Venue & Time TBC), while Westmeath's next game is away to Cill Dara in Rd.5 (20 July).
Scorers for Meath: Alan Bowden (2-2), John McDonagh (1-4), Eoghan Frayne (0-4, 3f, 45), Kian Lynch (1-1), Liam Stafford, Mark Coffey & Donal Commons (1-0) each, Aaron Murphy (0-2) & Cormac Sheehy (0-1)
Scorers for Westmeath: Alan Malynn(0-6, 2f & 45), Sean Leech & Callum Cruise (0-1) each
Meath: Adam Niven Simonstown; Ben Moran Summerhill, Sean O'Donoghue St Colmcille's, Godfrey Ehichoya St Colmcille's; Ben Donnelly Kilbride, Oisin Kelly Ratoath, Furzey Blake Dunsaughlin,Conor Grey Dunsaughlin, Cian Smyth Ratoath, John McDonagh Dunsaughlin, Oisin Keogh Skyrne, Liam Stafford (Capt) St Colmcille's, Alan Bowden Duleek/Bellewstown, Eoghan FrayneSummerhill, Aaron Murphy Dunsaughlin
Subs: Cathal Darby Seneschalstown; Donal Commons Seneschalstown; 1Con Smith Bective; Cormac Sheehy Meath Hill; Zack McGovern Kilbride; Mark Coffey Ballinabrackey; Conor McDonnellSeneschalstown; Fionn Smith Gaeil Colmcille; Ross Reynolds; Walterstown; Tagdh Hanrahan Simonstown; Sean O'Connell Simonstown; Josh Harris; Trim; Kian Lynch Moynalty
Westmeath: Peter Dalton Lilliput Gaels, Ronan Aspell Maryland/Tang, Tom Cloonan Caulry, David Weir Killucan, Tom Kellegher Tubberclare, Jake Costello Shandonagh, Mikey Lynam St.Josephs, Darren McWade Shandonagh, Podge Quinn Coalstown/Kinnegad, David Aughey St.Lomans, Sean Leech Killucan, Mikey Moffat The Down, Jack Cole.Coralstown/Kinnegad, Sammy Clarke Killucan, Alan Malynn Caulry
Subs: Senan Baker Caulry,Warric Kirby Lilliput Gaels; 19.Oliver McNamara Shamrocks; 20.Danny McCartan St Lomans; 21.Sean Carroll St.Marys/R-bridge,Callum Cruise Coralstown/Kinnegad; Luke Whitney Moate All Whites; Jack Doran Ballynacargy; Jason McKeon Ballynacargy; Tomass Turks Shamrocks; Mark Cunningham Inny Gaels; Eoghan Hogan St.Lomans; Ben Killian Athlone
Ref: Seamus O'Connor
Most Read Stories