The night the World Rugby Coach of the Year played for Mullingar Shamrocks
November 26, 2018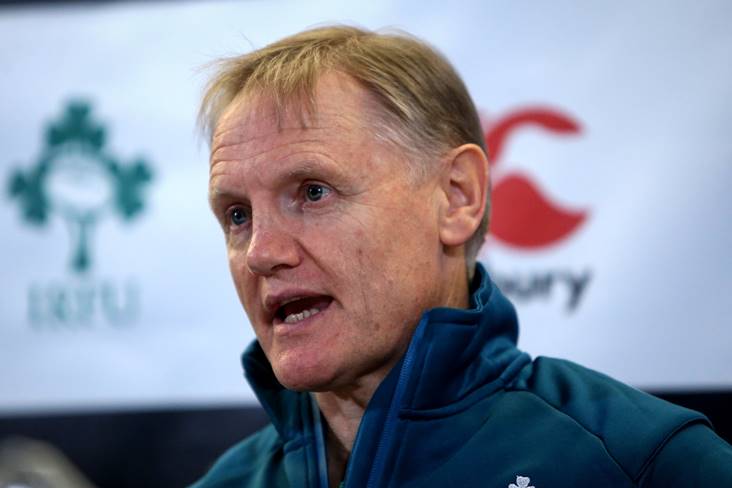 Ireland Rugby Head Coach Joe Schmidt. ©INPHO/Oisin Keniry.
In 1992, a little-known Kiwi lined out for Mullingar Shamrocks in a Westmeath junior football league match. Fast-forward 26 years and Joe Schmidt is the talk of rugby after being crowned World Rugby Coach of the Year in Monte Carlo last night.
Schmidt announced this morning that he will leave his position as Ireland head coach after next year's Rugby World Cup in Japan and finish coaching to focus on his family, with current defence coach Andy Farrell replacing him.
In light of Schmidt's remarkable achievement, now seems an opportune time to re-run a piece Mullingar Shamrocks PRO Tom Hunt penned for us back in June. An uncle of Republic of Ireland soccer players Stephen and Noel Hunt, Tom was one of Joe's team-mates on that fateful night:

On September 5 1992, Mullingar Shamrocks were scheduled to play Milltownpass in a Westmeath junior football league match. A young man from New Zealand had been living in Mullingar for 18 months and at the time lived in the Delvin Road area.
He occasionally wandered down to Springfield to watch the Mullingar Shamrocks seniors play and train as they prepared for the county final against Athlone. He was also friendly with some of the Mullingar Shamrocks lads that he got to know as he played with and trained and coached the Mullingar Rugby team. John Fagan who played senior football for Mullingar Shamrocks was President of Mullingar Rugby Club at the time and was associated with recruiting Schmidt for Mullingar RFC.
Joe Schmidt was anxious to play a game of Gaelic Football before he returned to New Zealand as he had no plans to return to Ireland after he completed his gap year from teaching at Tauranga Boys High School in the Bay of Plenty. Patsy Fagan organised to grant Joe Schmidt his wish and team manager Seán Hynes cleared his inclusion with Seán Moran who was in charge of Milltownpass, although Joe Schmidt had fulfilled all the residency requirements and was perfectly eligible to don the green jersey of Mullingar Shamrocks.
Mullingar Shamrocks defeated Milltownpass 2-8 to 1-5 on the night and it is recalled that Schmidt raced up and down the wing in a most impressive manner and scored at least one point in the process.
Mullingar Shamrocks fielded the moteliest of crews on the night in what was essentially their third team and included a father (Des Maguire) and his two sons (Darragh and Barry) in the forward line; some players had passed their use by date (yes, I'm thinking of the goalkeeper and maybe one or two more!); some had exceeded their best before date but possessed a distinguished back catalogue, some had bright futures that were never fulfilled and some just enjoyed their football without having to endure the rigours of training.
Amazingly, most of those on active service that night are still deeply involved in Mullingar Shamrocks almost 26 years later. Sean Hynes, then the team manager and secretary, is now chairman; Ritchie Daly is currently club secretary, Tom Hunt is PRO, Des Maguire is Registrar and Adrian Keaveney, who made a significant input to winning the 2000 senior title, is club vice-chairman and Patsy Fagan, as a minister without portfolio, is a key clubman.
Mick Greene, former championship winning captain was chairman at the time and recently returned to active service at the Thursday night bingo. Barry (currently logistics manager with the club's adult teams) and Darragh Maguire and David Cornally are deeply involved in under-age coaching while Matt Cullen is never far away when Mullingar Shamrocks are playing or seeking sponsorship; Robert Cornally specialised in hurling refereeing and became one of the county's best whistle blowers.
Truly extraordinary service or maybe immersion in Mullingar Shamrocks and the GAA is really an incurable disease. As far as we know Joe Schmidt is also still involved in coaching rugby football!
The Mullingar Shamrocks line-up that night was: Tom Hunt; Niall Devine, Robbie Cornally, Matt Cullen; Richie Daly, Patsy Fagan, Joe Keoghan; Adrian Keaveney, David Cornally; Darragh Maguire, Barry Maguire, Joe Schmidt; Mick Greene, Terry McCague, Des Maguire.
Most Read Stories