Walsh Cup: Offaly, Kilkenny, Dublin and Wexford progress to semis
January 07, 2018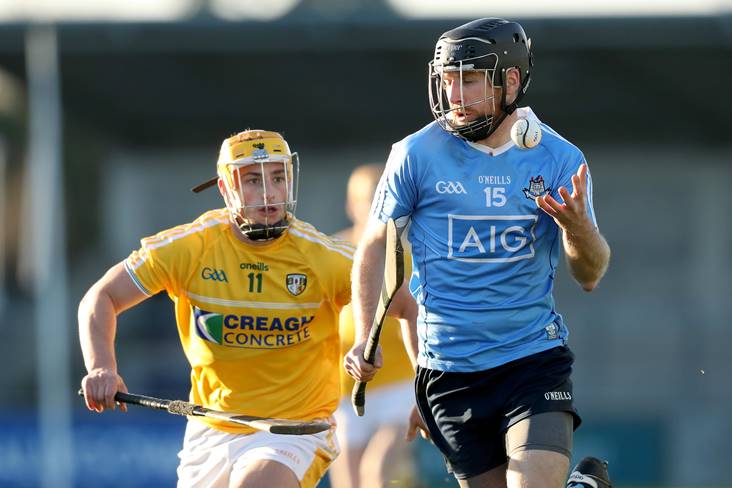 Dublin's Robert Mahon with Conor Johnston of Antrim.
©INPHO/Oisin Keniry.
Offaly will play host to Kilkenny and Dublin will be at home to Wexford in next Sunday's Walsh Cup semi-finals following today's action.
Oisin Kelly's first half goal proved decisive as the Faithful County defeated neighbours Westmeath for the second time in a week by 1-18 to 0-18 at TEG Cusack Park. Westmeath led by 0-14 to 1-7 at the break, but half a dozen points from Shane Dooley following his introduction saw the visitors stage a second half comeback.
In what was believed to be the first ever meeting of Kilkenny and Kildare in senior hurling at Freshford, John Walsh scored 2-6 as the Cats prevailed on a 3-18 to 0-8 scoreline. Kildare had only trailed by 0-5 to 0-9 at the interval, but were overwhelmed after the restart.
Kilkenny's John Walsh celebrates after the All-Ireland MHC final victory over Limerick in 2014. ©INPHO/James Crombie.
Pat Gilroy and Davy Fitzgerald will go head-to-head in the other semi-final after Dublin and Wexford accounted for Antrim and Wicklow respectively.
Following their heavy defeat to Tipperary in a SH challenge at Thurles yesterday, Dublin bounced back with a 4-16 to 0-17 win over Antrim at Parnell Park.
Goals from Paul Crummey and Paul Winters helped them to a 2-9 to 0-9 interval lead before Alan Moore netted twice in the second half. Free-taker Neil McManus accounted for 0-11 of the visitors' tally.
Meanwhile, Wexford coasted to a 6-36 to 1-12 victory over neighbours Wicklow in Ashford.
Offaly - C Slevin; D O'Toole, S Gardiner, T Spain; J Quinn, D Doughan, D Shortt; D King (0-2), S Kinsella (0-2); D Egan (0-3f), C Mahon, C Egan; C Gath (0-1), C Cleary (0-1), O Kelly (1-1). Subs: T Geraghty (0-2) for D Egan, S Dooley (0-6f) for C Cleary, D Currams for C Gath, J Gorman for C Mahon, P Camon for J Quinn.
Westmeath - S McGovern; S Power, T Doyle, C Shaw; A Craig, P Greville (0-1), D McNicholas; C Boyle, D Egerton; J Gilligan, C Doyle (0-2), N Mitchell (0-1sl); K Doyle (0-11, 9f), S Clavin (0-2), J Galvin (0-1). Subs: D Clinton for J Gilligan, A Cox for C Boyle, P Maxwell for J Galvin, B Doyle for S Power, E Quinn for A Craig.
Referee - B Redmond.
**
Kilkenny - D Brennan; T Walsh, C Delaney, R Bergin; S Aylward, C O'Shea, M Mansfield (0-2); O Walsh (0-2), H Lawlor; L Blanchfield (0-1), C Prendiville (0-1), M Keoghan (0-1); K Farrell (0-2), B Ryan (0-1), J Walsh (2-6). Subs: G Malone for C Prendiville, J Holden for R Bergin, B Sheehan (1-1) for K Farrell, L Scanlon for H Lawlor, S Morrissey (0-1) for O Walsh.
Kildare - P Dermody; D Brereton, J Doran, P Sullivan; E O'Neill (0-1), M Moloney, M Grace; P Divilly (0-6), B Byrne; C Bonus, J Burke, K Whelan; J Sheridan, M Fitzgerald (0-1), S Ryan. Subs: R Ryan for K Whelan, C Forde for D Brereton, P McKenna for P Dermody, C Dowling for J Sheridan, S Galney for C Bonus.
Referee - G McGrath.
**
Dublin - G Maguire; P Smyth, B O'Carroll, C Hendricken; S Barrett, D Kelly, C Crummey; J McCaffrey (0-1), T Connolly; C Costello, D Gray (0-3), P Crummey (1-1); R Mahon (0-6, 2f, 1'65), P Winters (1-4, 0-3f), A Moore (2-1). Subs: R Smith for T Connolly, C McBride for P Winters, S O Riain for P Crummey, C Ryan for C Costello.
Antrim - C O'Connell; D Kearney, A Graffin, S Rooney; C McKinley, J Maskey, J Dillon; N Elliott (0-1), C Johnston (0-2); N McManus (0-11, 10f), G Walsh (0-1), C McCann (0-1); J McNaughton, C Carson, C Clarke (0-1f). Subs: E O'Neill for C Carson, J Connolly for C Clarke, M Connolly for C McCann, C Boyd for J Dillon, D McCloskey for N Elliott.
Referee - P Murphy.
**
Wexford - C O'Leary; D Byrne, E Molloy, S Murphy; G Molloy (0-3), P Foley (0-2), E Martin; A Maddock, D O'Keeffe (0-3); M O'Regan, C McDonald (0-6, 2f), C Flood (0-2); L Rochford (1-4), J Guiney (0-11, 7f), J Firman (2-3). Subs: C Dunbar (0-1) for C McDonald, J O'Connor (1-1) for D O'Keeffe, D Reck (1-0) for P Foley, A Nolan (1-0) for C Flood.
Wicklow - R Fitzgerald; E Byrne, M Verney, M O'Brien; G Byrne (0-1), W Kavanagh (0-1), E Donohoe; R Keddy (0-1), C Moorehouse; S Germaine (0-1), A Byrne (0-1), J Byrne; P Doyle, A O'Brien (1-6, 0-5f), G Hughes (0-1). Subs: E Keddy for G Hughes, J Tallon for E Donohoe, C Staunton for R Fitzgerald, J O'Brien for P Doyle.
Referee - D Hughes.
Most Read Stories