New York U16s get the keys to the Kingdom
July 04, 2019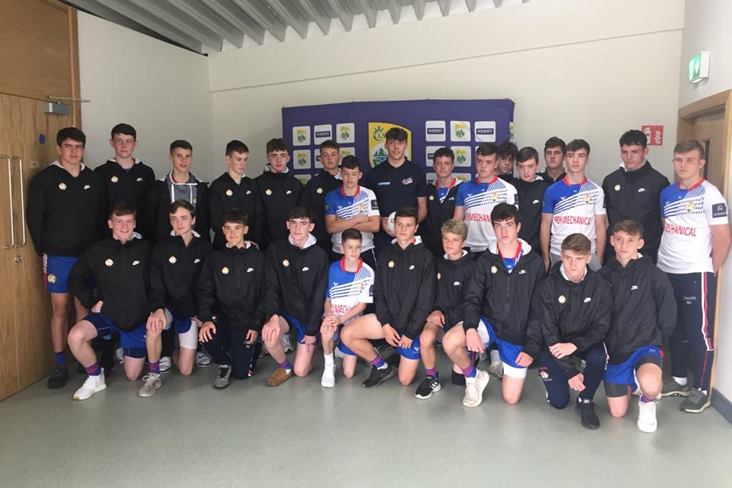 Kerry star David Clifford with the New York U16 squad
New York U16 footballers have been touring Ireland this week, with visits to Kerry and Sligo (to name but a few) on the agenda.
Under the management of Kingdom native Sean Price, the 24 American born boys have been connecting with their heritage through football and stand to gain a very memorable experience over the coming days.
This past week saw them provided with some coaching by Kerry starlet David Clifford as they get set to head for the Yeats County this weekend.
It marks a memorable couple of days for the boys from the Big Apple with the U14s winning a boys' shield and girls title at Feile (many of the current U16 crop having won honours at the same competition two years ago).
A devoted gael through and through, Sean Price himself put together the following to help describe the group and the trip they've embarked on:
"Tá siad ag teacht"
"To borrow the slogan from a Guinness advertisement of a by gone era 'they are coming'.
"There has been many stories told and documented about Irish immigrants and their adventures, trials and tribulations.
"This is a different story, this is a story about 24 American born boys connecting with their heritage through football, through song but most of all through the eyes of what it's like being the kid of Irish diaspora.
"There is a library of stories about the stars that played football in Gaelic Park, New York down through the years, the famous rows, the last minute scores, the objections and the counter objections. The story is of Irish players on holiday in Boston ending up playing in a New York Final, getting caught and suspended for six months and some of them winning an All-Ireland Medal the following year.
"Our story is different. It's about reversing the trend of U16 boys giving up football, it's about creating a bond with Ireland to keep them interested, keep them playing football and keeping the game alive and well in New York. The future of Gaelic Football in New York rests with American born players, the lack of immigration has changed everything.
"The story really started about 2 ½ years ago when the preparation for Féile Peile na nÓg 2017 started. 24 boys were picked to represent New York in that years Féile Peile in Ireland. For over 27 years New York has been competing in the competition starting at the lowest level and winning various divisions all the way to winning the Division 1 Final in Breffni Park on June 25th 2017. There were many highlights on that journey but without a doubt hearing the boys singing the American National Anthem and Amhrán na bhFiann after the final was very special.
"We wanted to create a unique bond within the group that year so we decided to suggest to the boys that they learn Amhrán na bhFiann, two days later they all had a few lines learned and within a week they were able to sign it as if they were taught it from their first day in school.
"The New York Minor Board in 2018 decided to build on the previous year's success and established the first ever U16 developmental squad. We were invited to Wexford to complete in the Centenary Cup, Wexford won the All Ireland in 1918, their fourth in a row. At the one day tournament we reached the final after victories over Wexford and Wicklow. Carlow got the better of us in the final but we were very proud of our performance and vowed to continue on this journey.
"New York is part of Connaught when it comes to Gaelic Games so this year we are off to Sligo for a one day tournament on July 6th. A lot of the same Féile players from 2017 are involved but also a number of new boys. This is a huge part of our focus, bringing boys into the squad thus increasing the number of boys playing football.
"Kerry GAA almost 12 months ago opened their "Center of Excellence" in Currans. A magnificent facility badly needed to support and promote Gaelic Games in the county. A significant amount of money was raised in New York for the project and Kerry GAA and its chairman Tim Murphy are very anxious to give back to the New York community. We are literally "getting the keys to the Kingdom" with the Center of Excellence, its coaches and facilities being made available to the traveling New York u16 Developmental Squad for three full days, July 1, 2 and 3rd.
"24 American boys being coached by the same coaches that were involved with Kerry's five in a row winning Minor teams, being coached by some of the current senior management team and getting to meet some of the legends of Kerry Football. It really will be the trip of a lifetime for these boys, hopefully keeping them playing football and involved when New York wins its first Championship match in the next five or six years.
"It is not just Kerry that are keen to give back, Dublin GAA hosted us in Parnell Park last year for a meet and greet with some of their players and they have offered to do so again this year. Sligo GAA are hosting the boys for two nights and are spearheading the organization of the tournament on July 6th. Cathal Cregg and the Connaught Council are involved and will host us in the Connaught Center of Excellence in Ballyhaunis on July 4th!!
"Trips like this don't come cheap and it will cost in excess of $40,000 to make it a success. To their credit half the money is raised by the players themselves with the other half being raised through sponsorship by Management. New York is putting its money where its mouth is and investing heavily in the GAA's future on this side of the Atlantic, expect to see the American flag flying in Croke Park on some distant All Ireland Final Sunday."
Join the hoganstand.com match tracker this weekend for live coverage of the All-Ireland SFC qualifiers and the hurling preliminary quarter-finals.
Most Read Stories