London Chairman targets further redevelopment of Ruislip
December 26, 2017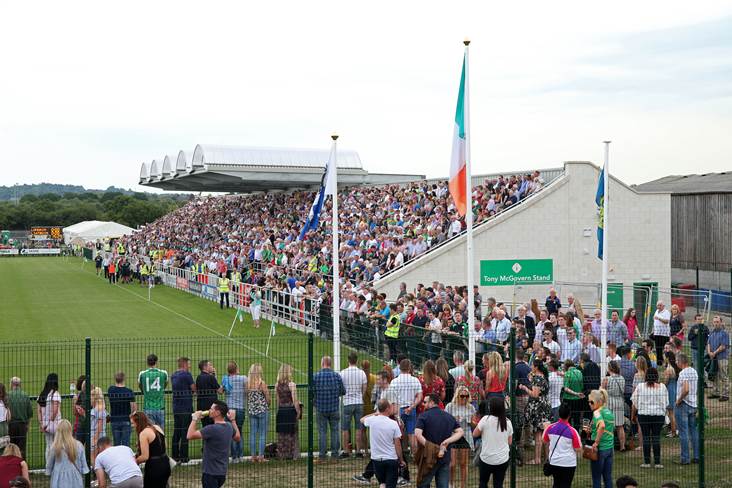 The new Tony McGovern 1,950 seater stand was full for the Connacht SFC quarter-final clash between London and Leitrim at McGovern Park, Ruislip.
©INPHO/Garry McManus.
by Damian Dolan
John Lacey has been reappointed London County Board Chair for a third year, and has made the redevelopment of the clubhouse at McGovern Park one of his main priorities for 2018 reports the Irish World.
Mr Lacey, who is in his second spell as chair, was reappointed unopposed after Tony O'Halloran withdrew from the running, and called it an "honour" to continue in the role for another 12 months.
Following the redevelopment of the pitch and the new stand at McGovern Park, which has made Ruislip a "facility any county would be proud of", the refurbishment of the clubhouse is the next stage.
"Hopefully this time next year we'll be sitting in a more luxurious room, but it will come at substantial cost," Mr Lacey told delegates. "But it's something that we will achieve, just as we achieved what happened outside [McGovern Park].
Changes to the Board for 2018 saw Tony O'Halloran named Central Council Delegate, after both he and Seamus Carr (outgoing) both received 35 votes. Mr Lacey had the deciding vote.
Former Irish World sports editor Fiona O'Brien was named PRO, with Pat Griffin standing down from the role, while Tony Griffin takes over as Development Officer from Declan Flanagan, who withdrew.
The London County Board Chairman had earlier used his address to Convention to pay a special tribute to those volunteers who assisted with the official opening of McGovern Park for the Connacht Championship fixture with Leitrim, both in advance and on the day, saying that the county owed them a "great gratitude".
London County Board Officers 2018
Life President: Carmel McArdle (Cuchulainns)
Honorary President: Billy Reilly (Brothers Pearse)
Chairperson: John Lacey (Granuaile)
Vice Chairperson: Eddie Naughton (Cuchulainns)
Assistant Secretary: John Doyle (Fulham Irish)
Assistant Treasurer: TBC
Treasurer Social Club: TBC
Development Officer: Tony Griffin (Parnells)
Coaching Officer: TBC
Public Relations Officer: Fiona O'Brien (Brothers Pearse)
Oifigeach na Gaeilge: Tommy Harrell (Fr Murphys)
Central Council: Tony O'Halloran (Harlesden Harps)
Provincial Council: Noel O'Sullivan (St Kiernans) & TBC
Most Read Stories