Mayo's David Brady features on TG4's Laochra Gael this week
March 30, 2020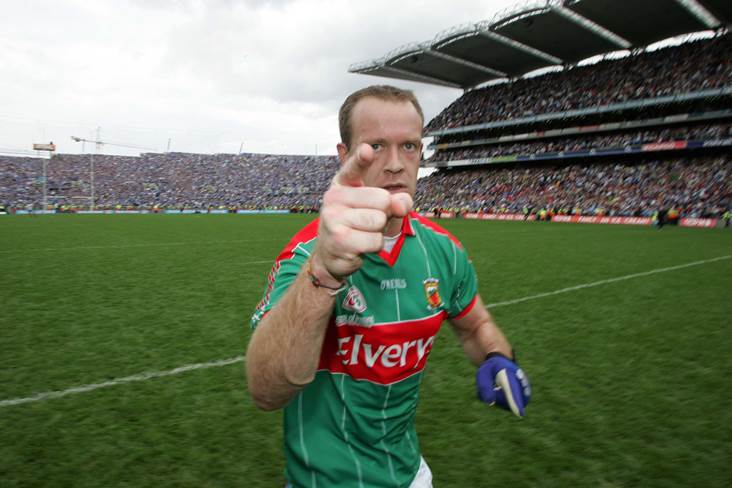 Mayo's David Brady celebrates after their All-Ireland semi-final victory over Dublin in 2006.
©INPHO/Morgan Treacy.
The definitive GAA sports series continues on TG4 for a 18th series with Mayo's midfield maverick David Brady the player featured this week.
David Brady lost four All-Ireland Finals with Mayo, and it is the pain and the anger that comes with this that informs one of the most controversial pundits in Irish sport. A childhood on the quay in Ballina, where attitudes to the fishing laws were liberal, indicated that David Brady was not interested in going with the flow. Always a combative presence in midfield, David knows more than most about Mayo's well-documented heartbreak. But he remains unbowed by the many disappointments and refuses to be defined by them. Instead, he has carved out a reputation for saying exactly what is on his mind, whatever that may be.
David's story is told through the eyes of his proud brother Ger Brady, former Mayo Footballer and politician Alan Dillon who was elected to the 33rd Dáil on his first electoral run this year, replacing former taoiseach Enda Kenny in Castlebar, former Galway Footballer Seán Óg de Paor, broadcaster Seán Bán Breathnach and Irish Independent Journalist Vincent Hogan.
While the players sporting careers continue to provide the backdrop to the story, the series travels well beyond the four white lines. Gripping personal storylines will compel viewers to travel towards territory unique to the GAA television landscape.
This episode will be on TG4 on Thursday 2nd April at 9.30pm and repeated on Sunday 5th April 4.55pm.
Most Read Stories