Sheedy's gamble pays off
August 18, 2019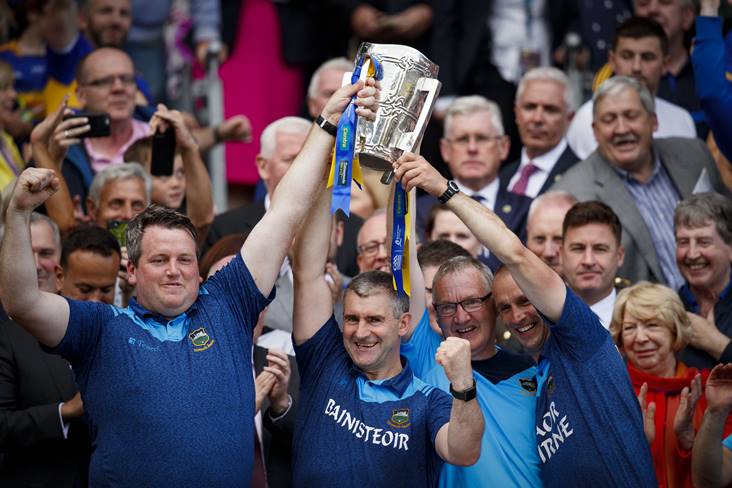 Tipperary manager Liam Sheedy lifts the Liam MacCarthy Cup with members of his backroom staff. ©INPHO/Oisin Keniry.
Liam Sheedy has picked up from where he left off in 2010 by guiding Tipperary to an All-Ireland final victory over Kilkenny.
And he admitted that it was hugely satisfying to end his first season back at the helm with the Liam MacCarthy Cup back in Tipp's possession.
"A lot of you sat in front of me when I started this journey and we said about the risk coming back," the Tipperary manager told the assembled media in Croke Park.
"I committed to giving this group and team 100 per cent. What I wanted was 100 per cent back. Whether we won or lost, we had given everything we possibly could. I stood at 3.30 there today, knowing I had done everything I possibly could to get that team in the shape of their lives. That was their work and the way they responded.
"Thankfully we sit here at the end of 2019 as All Ireland champions, it is very pleasing from that perspective. This journey was never about me, it is all about the team and all about the backroom team we put around them.
"Eamon O'Shea, Tommy Dunne, and Darragh Egan are just unbelievable men, all three. Cairbre (O Caireallain) doing the S and C, the condition he has got those players in is just fantastic. There is numerous more, but ultimately they challenged the lads and the lads responded."
Most Read Stories