Ryan: 'we're just thick'
June 06, 2018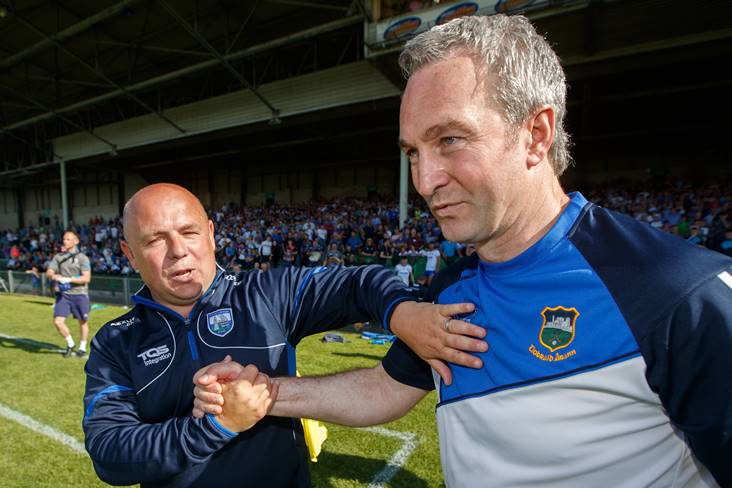 Waterford manager Derek McGrath and Tipperary manager Michael Ryan.
©INPHO/James Crombie.
Tipperary manager Michael Ryan believes that their two comebacks in their last two Munster SHC round robin series is a result of a 'thickness' in the side.
Ryan feels that the players refusal to lie down when it looks as if all is lost has helped them earn draws against Cork (last Sunday week) and more impressively against Waterford last Sunday.
They needed a controversial goal decision to help their cause, but having been 12 points and a man down, not many would have predicted the comeback that occurred.
And the Tipp manager told the Nenagh Guardian there is a resolve in the side which is not easily broken as the scrap for every point available. 
"They're a special bunch. They care so deeply about the game and about the jersey and they were certainly not going to go out without a whimper even thought it might have looked like it. We don't give in, we won't give in," stressed Ryan.
"Look if that's just thickness fair enough, we're just thick. But that's what we are. We're here to play and we don't give in. Matches, time and time again, super matches have been won in the last two minutes of the game or the last 30 seconds.
"Look it we salvaged a draw again, I'd say in the last 20 seconds of the game and just great credit goes to a group that will keep trying. They are so honest but you know we really do need to start playing better than we did.
Tipp have to do it all again this weekend as they take on Clare in their last game of the series at Semple Stadium and nothing bar a win will do the Premier County.
Most Read Stories