Fixtures revamp could have been eased in: Tipp chairman
December 18, 2017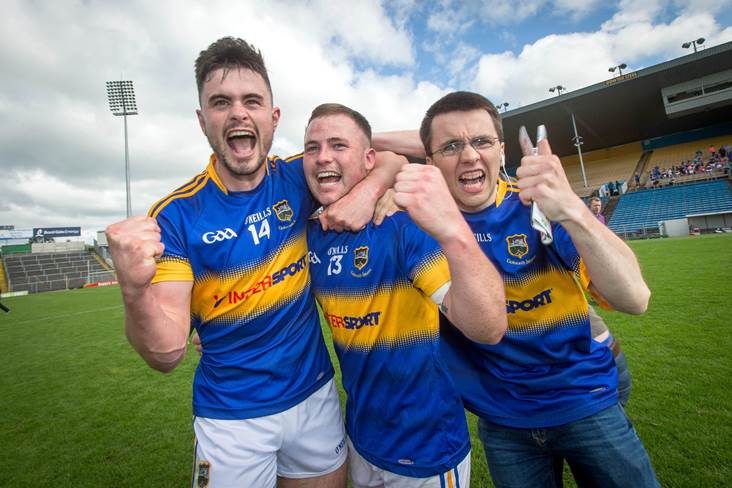 Tipperary's Michael Quinlivan and Kevin O'Halloran celebrate with supporters after their Munster SFC semi-final victory over Cork at Semple Stadium, Thurles.
©INPHO/Ryan Byrne.
by Declan Rooney
Outgoing Tipperary GAA chairperson Michael Bourke says the GAA should have taken their major revamp of the fixtures schedule one code at a time.
Bourke, who stepped down from the chairperson's role after three year at the helm and was replaced by John Devane, told yesterday's (SUNDAY) Tipperary GAA convention at The Dome in Semple Stadium that it will take significant discipline and planning to execute the new fixtures plan for 2018.
Earlier this year the GAA revealed that the month of April would be dedicate solely to the club game and that the national leagues would start in January rather than February. Bourke says it could be a tricky year ahead with both football and hurling calendars being altered.
"There will be major changes on the fixtures calendar going forward. It will take dedication, careful management, total commitment from all involved to ensure that it will work out successfully for our inter-county game and our club scene," said the former chairperson Bourke.
"I believe for a lot of the changes at national level, it might have been more prudent to take one code at a time, would have been the way forward.
"Tipperary County Board has been continually striving to put a club fixtures plan in place that strikes the right balance between the club and the inter-county game.
"Let's hope that 2018 the fixtures programme will work out well."
Devane was elected unopposed as the new Tipperary GAA chairperson and he insisted a disciplined fixtures plan in the county and nationally is the way forward.
"I don't see any point in going along just doing what we've always done. If there are issues that need addressing then do it," said Devane.
"Three years ago when accepting the vice chairman role I stated that I wish to tackle the whole fixtures structure. It is the most discussed and a most contentious issues in the GAA. There is not a club player or official here tonight or throughout the country who are happy with the way our games are being played.
"I know it arouses deep passion in people and many people are very much against change, but I'd never try and do something if it wasn't the right thing to do. Devising that structure with the right number of teams involved playing the right number of games with a clear beginning, middle and end is the right thing to do."
In a tight election for the vice chairperson's position Moyne Templetuohy club man Joe Kennedy was elected ahead of Nenagh Eire Og's Jimmy Minogue on a 114-111 margin.
Meanwhile, Tipperary GAA returned a surplus of €160,322 for 2017 which has been achieved despite more than half a million euro of a drop in income over the 12 months.
Speaking at yesterday's convention Tipperary GAA treasurer Michael Power - who was returned for 2018 - said the county finances were in good shape.
"It gives me great pleasure to confirm that the county board is in a very healthy position," said Power.
The county's income was boosted by a 21 per cent climb in gate receipts, up to €474,321, while the run of the Tipperary senior hurlers to the national hurling league final means an increased national league share of over €100,000 for the 2017 year.
The standout figure in the accounts was the accumulated contra items, which decreased by a staggering €723,628. This was mainly due to decreased match ticket costs, because unlike 2016, Tipperary did not compete in the 2017 All-Ireland hurling final.
This year's repayment of €103,017 to Croke Park means that Tipperary County Board now only own €471 on a €1,000,000 loan received from the GAA back in 2009 for the development of training facilities.
Most Read Stories