O'Hara warns of tough time for new Sligo manager Corey
December 27, 2017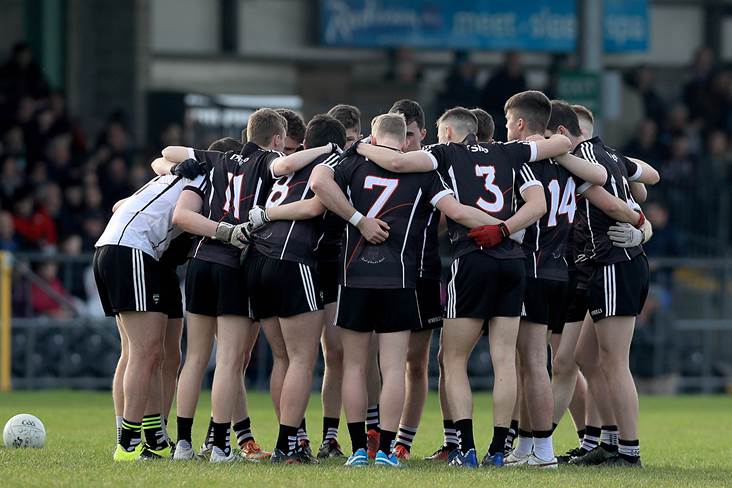 The Sligo players huddle.
©INPHO/Donall Farmer.
by Declan Rooney
Former Sligo footballer Eamonn OHara thinks new manager Cathal Corey will do well to keep the Yeats men in Division 3 in 2018, but that relegation would not be the worst thing for the county.
Corey was appointed as Niall Carews replacement in October and has yet to take charge of a competitive game with the county, and OHara has pleaded with Sligo supporters to give the new man time to manage the rebuilding job that he says is needed.
Under Carews management Sligo played each of his three years in Division 3, but OHara, who was on the last Sligo team to play in the bottom tier in 2009, says it could be a tough year ahead.
What tends to happen when a new guy comes in is hell rely on the senior players and rely on the established players and be afraid to give a young fellas a chance. For me I hope he just gives them the opportunity to play, said OHara, who won an All Star in 2002.
If they lose you have got to stick with them and you have got to learn. It will be a one or two year project and if we have to go back to Division 4 then so be it, but you have got to be open and transparent about that and say that.
I think it will be a big ask for our lads to stay in Division 3 this year, but nobody can panic and no one can be overly critical of this man. They have made the decision and it has to be a two-, three-, four-year project.
Thats the way I looked at it before anyone was appointed. This is a rebuilding process. We have a good underage structure coming through, a competitive one anyway. Lets hope we can build on that, grind out results and learn. Its a learning curve for these lads and the same for the management team.
Since his retirement in 2013 OHara has turned his hand to punditry and club management, and this year he led his native Tourlestrane to the county title, but they were eventually beaten by Mayo winners Castlebar Mitchels in the provincial semi-final.
Before that OHara had a 19-year inter-county championship career and made his league debut for Sligo in 1993 as an 18-year-old. Corey has none of that experience to fall back on, but is a seasoned club manager in Tyrone and Donegal. OHara wished the new man all the best.
I hope it goes well for him. It seems that that decision makers decided to go with an inexperienced guy in terms of county level, in terms of not playing it and not managing in it.
But he is hungry and hell be judged on his results. For him maybe hell have to take a retrograde step back in terms of losing a lot of games to blood in a lot of new guys, I hope he gives guys that opportunity.
Most Read Stories