Former Roscommon hurler hopes to represent Ireland at World Transplant Games
April 05, 2019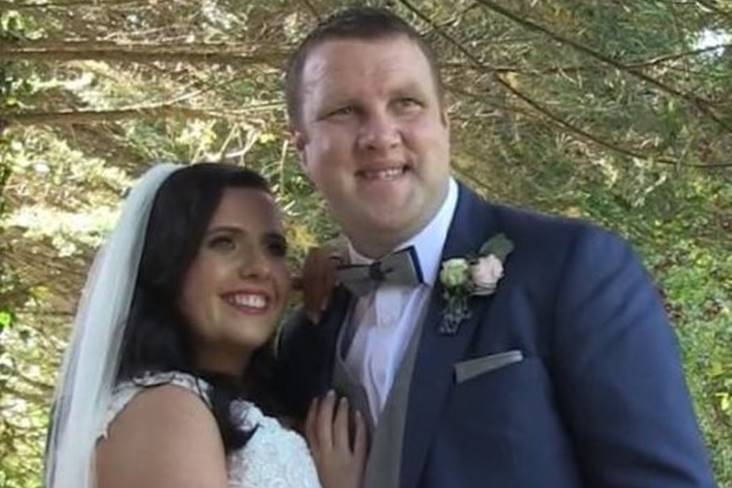 David Beirne with his wife Irene on their wedding day.
Former Roscommon hurler David Beirne was enjoying life like most 25-year-olds before receiving a sudden diagnosis of kidney failure in October 2013. A week after he met his now wife Irene, David made the trip to his GP with a swollen ankle which he thought might have been a result of an injury he sustained while refereeing a camogie match. However, a blood test revealed that his creatinine levels were very high signalling kidney failure.
Less than a year later, the Corboley, Knockcroghery native started his dialysis treatment which saw him spend up to two and a half years travelling to Galway three times a week. He would leave his house at 5am, return home at 1.30pm and go to work at 2pm. He also underwent a form of home dialysis treatment (peritoneal) every night for eight hours at a time. He was forced to give up hurling but he has never lost his passion for the game and went on to become a senior selector with his club St Dominick's.
David always remained optimistic that he would be called for a kidney transplant before marrying the love of his life Irene. While things didn't work out as they would have hoped, David and Irene tied the knot in July 2017, promising to love each other in sickness and in health. David was still a dialysis patient at the time but fortunately the call the couple had been waiting for came a year later and thanks to a deceased organ donor David received his transplant in May 2018. Just last month he became a dad for the first time following the birth of baby Ailbhe.
Prior to his diagnosis, David had always carried an organ donor card and signed the back of his driving licence to be an organ donor. David is a member of Transplant Team Ireland and hopes to represent Ireland at the World Transplant Games which will be held in the UK this August. He also hopes to participate in the Dialysis Sports Championships when they take place in Dublin in 2020 and will see over 500 participants from all over Europe come together for the games while showcasing the importance of organ donation.
The focus of Organ Donor Awareness Week which takes place from 30th March-6th April is to remind individuals to talk to their families about their organ donation wishes and keep the reminders of their decision available by carrying the organ *donor card* permitting *Code 115* to be included on their *driver's licence and having the 'digital organ donor card' APP on their smartphone.* The Week also serves as the key annual fundraiser for the IKA as volunteers sell their forget-me-not flower emblem and other merchandise with proceeds going to supporting services to kidney patients and their families. Ray D'Arcy has taken up the voluntary role of Ambassador for Organ Donor Awareness 2019 and also attended the National Launch. He will feature on posters and in a radio advertising campaign encouraging the public to let their loved ones know their wishes.
Organ Donor Cards can also be obtained by phoning the Irish Kidney Association on 01 6205306 or Free text the word DONOR to 50050. You can also visit the website www.ika.ie/get-a-donor-card or download a free 'digital organ donor card' APP to your phone.
Most Read Stories