Roscommon manager McStay tells returning players they have ground to make up
December 20, 2017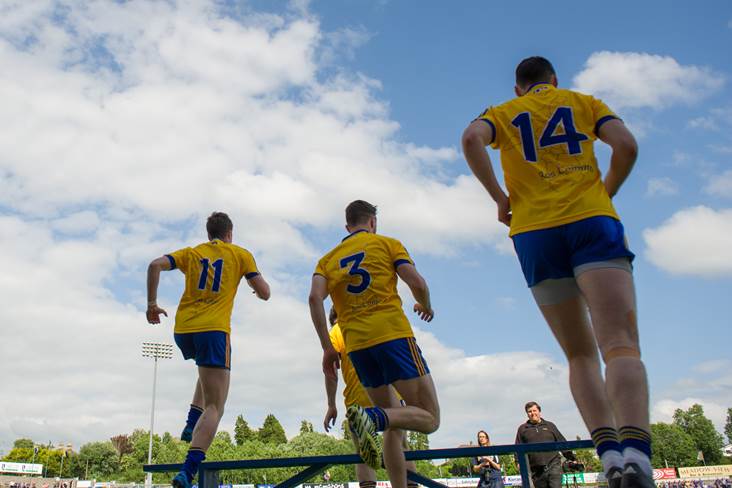 Roscommon's Cathal Cregg, Neil Collins and Donal Shine take to the field.
©INPHO/Tommy Grealy.
by Declan Rooney
Roscommon manager Kevin McStay has been unable to coax Neil Collins back for 2018, but he has warned the returning Cathal Cregg, Niall Daly, Ronan Daly and Conor Daly that they have plenty of catching up to do.
Cregg did not make himself available last season, Ronan and Conor Daly left the squad in 2016, while their brother Niall Daly departed after being left out of the team in round two of the 2017 national league.
The Roscommon boss said discussion surrounding their return were 'simple' but that they have lost ground on their rivals in their absence.
McStay has named a training squad of 44, which will be whittled down to 32 in the middle of January ahead of their Division 2 campaign, but the manager is thrilled to have the quartet back.
"It was simple, it was really just no difficulty whatsoever and that's being very truthful. I think they realised and we realised that we had to do something," said McStay.
"I was appointed for three years, '18, '19 and '20, and I'd like to think that sobered everybody up. Because if people didn't come half way down the road to meet you, they you weren't going to be round for the next three years, because I fully intend to be around to manage it.
"It was a good conversation and I think they were ready to comeback. I think they were missing football and we were missing them. There is no doubt they are good footballers, now they have to get their conditioning right, they are well off in their conditioning. They have to get their form right."
Collins works in the New York fashion industry and didn't play any part in Roscommon's run to a first Connacht title in seven years, but McStay would love to see him back in the squad if he ever returns home.
"One of the bigger disappointments has been the inability of Neil Collins to come home and commit to the team. He's started a new job in the States about a month and a half ago. We had a really good conversation about it.
"He's heartbroken not to be able to it, but he has to forge ahead with his career, that's just the way it is. I haven't give up hope that we're going to see him sooner rather than later, once he gets a bit of traction over there and maybe he can move his operation back towards Ireland, I don't know."
There was plenty of positive news for McStay on the injury front though, where the impending return of Ultan Harney from a back injury is a big boost, while experienced defender Sean McDermott wants to play another season.
"Seanie Mac has committed again, but his business is actually going well, so it's catch 22. We are going to monitor that during the league and just see what's possible. The nights we train, Friday nights, Tuesday, it's very difficult for him to get away from a very busy barber shop.
"Ultan Harney the news on him is even better. He has got a very positive scan this week, so he was very upbeat about that and he is back training with us, but it's light training.
"He's looking at mid January but I'm looking at mid February. He is always trying to push faster than is required. Cathal Compton is back in full training, and Fergal Lennon is back in full training too."
Most Read Stories