Leinster MFC round-up: Dubs out despite thumping win
July 03, 2018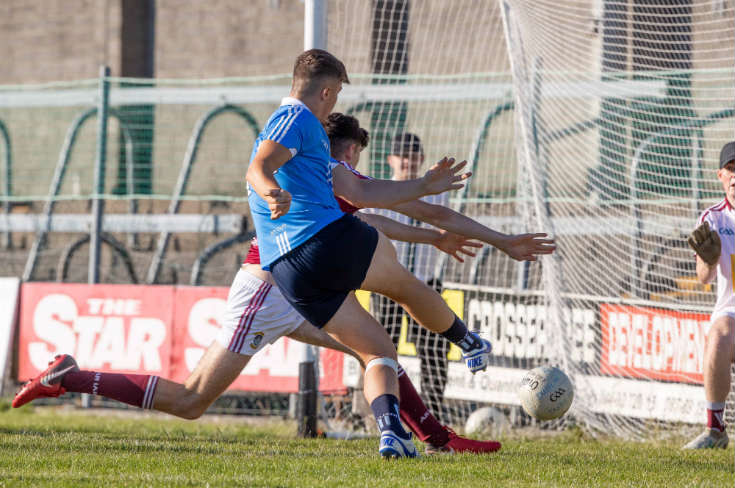 Dublin's Luke Swan scores a goal in the first minute ©INPHO/Morgan Treacy
Dublin are out of the Leinster MFC despite easing to an emphatic 5-19 to 0-9 victory over Westmeath in Mullingar tonight.
The Dubs were in no mood for hanging around and they were home and hosed against the basement boys by half time, 4-9 to 0-5. Luke Swan got them off to the best possible start with a first-minute goal and they never looked back, but it was all to no avail in the end.
Swan added a second and the winners' other three-pointers were supplied by Sean Guiden, Sean Foran and Robbie Bolger.
As well as winning, the Dubs needed table-toppers Meath to do them a favour by beating Wicklow in Aughrim tonight. But the Garden County prevailed by 1-10 to 1-8 to take second place in Group 1 and thereby seal a semi-final meeting with Kildare.
The Lilywhites finished their Group 2 programme with a 100% record, defeating Longford by 1-18 to 0-12 in Pearse Park. That defeat for Longford ended their chances of finishing second. Instead, Laois - who didn't play tonight - remain in second place and will host Meath in the second semi-final on Saturday.
Dublin and Longford are into the Leinster MFC Shield, and will be joined there by Louth and Wexford.
The Wee County edged out Offaly in Tullamore tonight, 2-12 to 1-11, while the Model County closed out their round-robin campaign with a 1-11 to 1-10 defeat of Carlow at Wexford Park.
Conor Kehoe landed a late equaliser for Wexford before Jack O'Leary got on the end of a great team move to win it for the hosts. Lee Jordan fired a 56th-minute Wexford penalty over the bar, having also slotted the goal that gave his team a double-scores interval lead, 1-5 to 0-4.
Dublin - S Bohan; C O'Brien, A Fearon, A Rafter (0-1); C McManus (0-1), E Cashman, M Lavin (0-5, 4f); A Watson, E Adamson; L Dunne (0-1), C Murray (0-1), D Smith (0-1); S Guiden (1-5, 0-4f), L Swan (2-1), S Foran (1-0). Subs: R Bolger (1-2) for L Swan, M O'Leary for L Dunne, L McGovern (0-1) for C Murray, C Hennessy for E Adamson, E Farquharson for M Lavin, R Dwyer for D Smith.
Westmeath - C McCourt; C Drumm, C Daly, S Murtagh; J Gahan, C Gibney, D Seery; J Coffey, A Cronin (0-1); J McDonnell (0-3f), K O'Sullivan, S Fleming (0-2); C Cleary, B McGauran, E Gaffney (0-1f). Subs: L Moran (0-1) for J Coffey, W Smith for S Murtagh, D Keegan for J Gahan, E McCabe (0-1) for C Cleary, T Keena for B McGauran, O Raleigh for J McDonnell.
Referee - F Pierce.
**
Wicklow - B Fennell; F O'Carroll, S Kearney, T Moran; K Quinn, O Cullen (1-0), C Grimes; E Byrne, S Doody; A Barrett, C Maguire (0-2), J Keogh (0-1); M Ging (0-5, 3f), E Darcy (0-1f), A Foley. Subs: J Fleming Foran for A Barrett, S Cranley (0-1) for J Keogh, C McDonald for A Foley, D Lawlor for K Quinn, C McHugh for M Ging.
Meath - E Griffin; A Barrett, J Dardis, K Price (0-2); L Newe, C Harford, O McCloskey; A Reilly, K Hogan; A Treanor, C Hawdon (0-1), D Morgan; A Kelly, N Smullen (1-2), J Moore (0-2). Subs: C Hetherton for C Harford, S Martyn for A Kelly, N Bennett for A Reilly, D Carr for L Newe, D Swaine (0-1) for D Morgan, C Hegarty for C Hawdon.
Referee - J Hickey.
**
Kildare - J Ball; J Lynch, S Hill, J Hamill; N Jackman (0-1), K Kelliher, P McDermott; L Broderick, D Costello (0-1); T Browne (0-1), A Beirne (1-5), M McGovern; M Curtin (0-1), A Kennedy (0-3), J Smyth (0-2f). Subs: M Kiely for M McGovern, S Morrissey (0-4) for D Costello, D Higgins for M Kiely.
Longford - P Murray; D Moffett, D Ciglianio, C Nolan; C Belton, J Moran (0-1), P Dempsey; J Borland, R Prior; E Finneran, E McCormack (0-2), K McGann (0-2); R Leonard (0-1f), D O'Connell (0-1), C Dooner (0-5, 4f). Subs: C Farley for C Belton, A Quinn for J Borland (BC), C O'Nullain for R Leonard, C Leonard for R Prior, R Reilly for C Dooner, M O'Neill for D Ciglianio.
Referee - P Coyle.
**
Louth - J McGillick; F Lynch, P McEvoy, T Jackson; R Hanlon, C Shevlin (0-1), G Bell (0-1); R Walsh (1-0), J Mee; B Butterly, D Nally, C Fleming (0-6, 4f); S Healy, C McCaul (0-3), C Lennon (1-1). Sub: C Quigley for J Mee.
Offaly - S O'Toole; A Brazil, K Dolan, B Nolan; E Cullen (0-1), R Egan, H Balsiger; C Donoghue, M Tynan (0-1); P Bennett, S Courtney, M Cunningham (0-2); J Bryant (0-3), A Kellaghan (0-2, 1f), C Flynn (1-1). Subs: J Nolan for P Bennett, D Lowry (0-1) for S Courtney, C Delaney for M Cunningham, L Egan for C Donoghue.
Referee - D Sheppard.
**
Wexford - A Larkin; O Gahan, J Sheehan (0-1), James O'Leary; H Kehoe, P Casey, C Kavanagh; E Cullen, M Kehoe; N Connolly (0-1), C Regan (0-2), L Nolan; E Nolan, Jack O'Leary (0-2), L Jordan (1-4, 0-2f, 0-1pen). Subs: C Hughes for M Kehoe, C Kehoe (0-1) for L Nolan, A Mullins for H Kehoe.
Carlow - K Budzisz; C Connolly, C Bowden, J Dunne; M Behan, A Nolan (1-0pen), R Whelan (0-1f); F Kavanagh, J O'Brien (0-3, 2f); L Connolly (0-1), P Regan (0-1), P McDonnell (0-1); C Byrne, D Dunphy, B Crotty. Subs: J McCullagh for B Crotty, C Duffy (0-2) for J O'Brien, S Metcalfe (0-1) for R Whelan.
Referee - J King.
Most Read Stories