What they said … the football weekend in quotes
July 02, 2018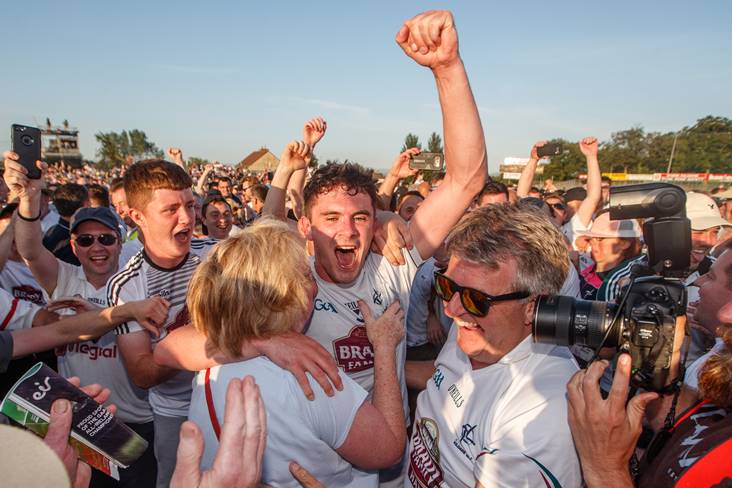 Kildare's David Hyland celebrates with his mother Maire after his side's All-Ireland SFC qualifiers round 3 victory over Mayo at St Conleth's Park, Newbridge.
©INPHO/James Crombie.
"It was an unbelievable battle. We stuck to our guns and stuck to our game plan and I'm just delighted that the lads held out in the end. This was always about the players. It was never about anything else and by Jesus they deserve it."
After forcing fixture-makers into a U-turn on the venue, Cian O'Neill's Kildare players went out and did their talking on the pitch.
"We have two years left on our term so I don't want anyone reading into that either way. It's just a case of reflection which would happen if you went to the last Sunday in the competition as well. That would be the case no matter when you go out in the Championship - it isn't necessarily a knee-jerk reaction to going out in round three."
The curtain came down on Championship 2018 for Stephen Rochford and Mayo.
"Cian created the perfect storm. His players had to respond and they did respond. I've been involved in many 'siege mentality' [situations] and you could just see the energy, the power that was in those Kildare lads. They were going there yesterday with a very different approach to what they did in that Carlow game."
Sunday Game pundit Sean Cavanagh was impressed with the Lilywhites.
"Ah, [0-18] is a good return and I suppose we will look at it and be disappointed we didn't hit the net once or twice but it was all about the outcome today, it doesn't matter who likes it or who doesn't, this was about being in the draw on Monday morning and we are there, and we are very, very happy about that."
Mickey Harte will look for improvement from his Tyrone team ahead of their round 4 qualifier date with Cork.
"It's funny, you turn around and you see people leaving. Maybe sometimes a wee bit of faith in some of the young boys would go a long way. Everything that could go wrong seemed to be going wrong... the character the players showed was great."
Kieran McGeeney's Armagh players produced a late smash and grab raid to deny Clare.
"Everyone was trying to get on the ball and get us up the field, but we were probably rushing it a bit and giving them more opportunities to go ahead, and all of a sudden we go from three up to three down very quickly. You'd have to credit Armagh too, they took their chances when it really mattered. But there's a real feeling it was a self-inflicted defeat from us, you know."
Defeat was a bitter pill to swallow for Gary Brennan and the Banner County.
"Your thoughts are very scattered after a match but our official term is obviously just over and everybody needs to take a step back and gather our thoughts."
Will Brendan Guckian seek a third year at the helm of Leitrim?
"All the three defeated provincial finalists are looking for a rebound. They would probably have been disappointed to lose their final. The big thing, we found ourselves, at least they have three weeks to get over that loss. They will really be itching to get back out and put in a big performance to show that was a once-off."
Malachy O'Rourke and Monaghan will take on Laois in round 4 of the qualifiers with a place in the Super 8s up for grabs.
Most Read Stories