Hectic schedule irks Martin
June 08, 2018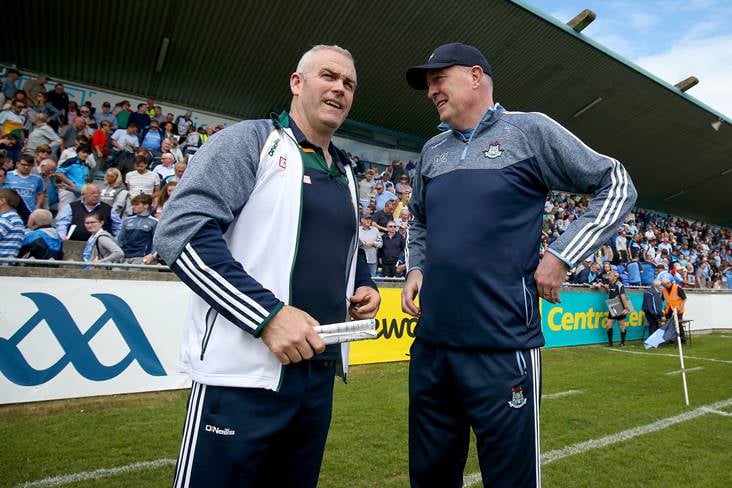 Offaly manager Kevin Martin with Dublin counterpart Pat Gilroy after the game
Offaly manager Kevin Martin believes the scheduling of the Leinster SHC games in such a short space of time needs to be addressed.
The Faithful County's season concluded last weekend following their defeat to Dublin and relegation back to the Joe McDonagh Cup next year.
Four games in four weeks were played and Martin feels that is not feasible for amateur players who have to return to their day jobs after every weekend.
"These guys are amateurs, they're not professionals. You take the Leinsters (rugby) of this world, if they have three or four weeks in a row, they'll rotate their squad about three times. They're professional guys that can sit around the next day and get rub-downs and relax," Martin told the Midland Tribune.
"These guys, they have to go and do a day's work. Some of them are farmers and electricians and they just don't have the energy levels for that. It's not fair on them really. That goes for every county. It takes its toll on every team and you'll probably see it again with Wexford next weekend."
Martin added that he is not a supporter of relegation from the Leinster SHC regardless of which team is demoted.
"If we won and Dublin were relegated, I'd still be shouting for Dublin not to be relegated. Dublin, like ourselves, we're the bottom two in the group and we're trying to improve things."
Follow our match tracker this weekend for a feast of action in both the football and hurling championships with live coverage from 15 games across both codes.
Most Read Stories